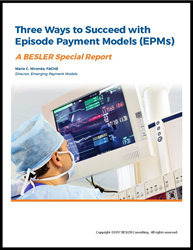 Princeton, NJ (PRWEB) February 14, 2017
Today, BESLER Consulting announced the publication of "Three Ways To Succeed Under Episode Payment Models (EPMs)."
In November, 2015, CMS introduced the Comprehensive Care for Joint Replacement (CJR) bundled payment program. Subsequently, CMS has announced the introduction of three new EPMs including services for acute myocardial infarction (AMI), coronary artery bypass graft (CABG), and surgical hip/femur fracture treatment (SHFFT).
This special report discusses EPM programs currently offered by the Centers for Medicare and Medicaid Services (CMS) and three ways hospitals can succeed under these new programs.
"The landscape for hospital reimbursement is rapidly changing from a fee-for-service environment to a value-based system," said Jonathan Besler, President & CEO of BESLER Consulting. "We published this report to help illuminate some of the strategies hospitals can use to navigate these changes."
For a copy of this free report visit the BESLER Consulting website at besler.com/epm.
About BESLER Consulting
BESLER Consulting combines broad healthcare finance expertise with cutting-edge technology to help hospitals enhance and protect their revenue. Through reimbursement and revenue recovery initiatives to navigating alternative payment models, our efforts have delivered more than $2 billion of additional revenue to hospitals across the United States. BESLER's Transfer DRG Revenue Recovery Service has earned the coveted Peer Reviewed designation from the Healthcare Financial Management Association and we proudly count hundreds of hospitals among our satisfied customers. For more information, visit http://www.besler.com.