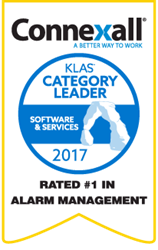 Boulder, CO & Toronto, ON (PRWEB) February 15, 2017
Connexall has released a new interface to Rauland's latest solution: All Touch®. Information on workflow events and room status can now be shared across hospital systems using this new integration of Rauland Responder All Touch® with Connexall's clinical communication software platform.
This new integration leverages the HL7 protocol for communicating events and status changes between the two systems. Additionally, the added capability allows Connexall to initiate events back into the Rauland nurse call system to trigger lights or tones in the nurse call system itself. This development of bi-directional communication provides clinicians with an increased sense of situational awareness and a level of system integration and clinical workflow flexibility that allows caregivers to truly determine the best ways for their staff to communicate with their patients, and each other.
When utilizing Connexall with Responder All Touch®, actionable clinical information is automatically routed to the appropriate caregiver. This integrated communications solution supports the joint goals of ensuring patient safety while also increasing staff satisfaction.
"The new integration between Connexall and the Responder All Touch® software illustrates our continued commitment to providing the best experience for patients, caregivers and staff in the clinical environment," stated Craig Martin, director of product management for Connexall. "By expanding our partnership and integration capabilities, we are now able to support full, context based, bi-directional communication between our two products."
The Connexall integration with Responder All Touch® provides clinicians with more effective clinical workflows resulting in reduced notification fatigue and a safer patient environment--allowing staff to do what's most important: care for their patients.
About Connexall
Connexall, ranked number one and named Category Leader in the 2015/2016 and 2017 Best in KLAS awards, is an enterprise-grade communication and control platform that delivers hospital-wide interoperability to people, systems, tasks, and devices. Its capabilities act as a backbone for clinical workflow, communicating the right information to the right person, at the right time, on the right device. Based on more than 20 years of R&D efforts, the Class II medical device software is completely vendor-neutral and device-independent. Connexall has offices in Canada, the United States, Brazil, Portugal and Hong Kong and works with well over a thousand of the world's most renowned and progressive hospitals and health systems. For more information please visit https://connexall.com/.
About Rauland Responder®
Rauland Responder® critical communication solutions enhance overall communication and workflow within a hospital – patient-to-staff, and staff-to-staff. Responder helps staff deliver the best possible patient care, with fast, direct communication, flexible integration, intelligent call routing and real-time reporting. Responder helps gather data real-time for easier decision-making, optimized workflow and enhanced patient care and satisfaction, with an enhanced open architecture that integrates to a variety of phones, pagers and location systems. Rauland is a division of AMETEK, Inc. For more information, visit rauland.com , or follow Responder on Twitter.
Come see Connexall at HIMSS17 Booth #1903
Come see Rauland Borg at HIMSS17 Booth #1823
Connexall Contact
Betsy Berken-Zaslav
(866) 556-3377
bzaslav(at)connexall(dot)com