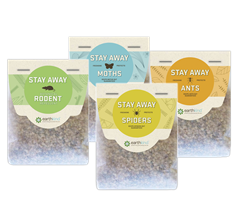 New York, NY (PRWEB) February 16, 2017
EarthKind® Stay Away® natural pest repellant pouches are now available in Manhattan Lowe's stores. The retailer gave the products prime positioning in its two Manhattan locations. Shoppers can now pick them up when they're grabbing their other non-toxic supplies for spring cleaning.
Don't be fooled by Punxsutawney Phil, – spring is right around the corner! This is when shoppers should start thinking about that dreaded task of giving their homes an annual deep cleaning. Spring cleaning usually means moving furniture around and tearing closets apart, which makes this the best time of year to inspect the home for signs of an infestation and to take a few extra steps to keep the home pest free throughout the year.
When it comes to pest control, there is no need to use poisons or harmful chemicals for it to be effective. Stay Away® all natural pest repellant pouches by EarthKind® are fast acting and safe to use around children and pets. Kari Warberg Block, pest prevention expert and founder of EarthKind®, offers the following tips for spring cleaning, with pest prevention in mind:

Kitchen: 50% of rodent infestations inside a home happen here. Keep the kitchen clean naturally by using ingredients like soap, vinegar and lemons.
o Fill a spray bottle with a 50/50 mix of white vinegar and water to clean surfaces (except marble or granite) -- the vinegar will eliminate germs and wipe out the scent trails pests follow.
o For marble or granite countertops, the acidic pH of vinegar or citrus cleaners can eat away at the stone, so just use warm soapy water instead.
o Grind a lemon peel (lime or orange will work too) in the garbage disposal once a week. The citrus scent will keep funky odors and ants away!

Bedroom: Use a vacuum to remove dust and spider webs from walls and ceilings including hard-to-reach places, such as the tops of ceiling fans. The vibration of vacuums (and ceiling fans) will send these creepy crawlers on their way to a more peaceful home.
Closet: A dark and undisturbed closet is like an all you can eat buffet that never closes to a moth. Washing or dry cleaning items that moths are attracted to, such as natural fibers, before storing them can reduce the likelihood of moth infestations. This will remove any existing moth eggs or larvae as well as remove any biological residue such as sweat, hair, or body oils which moths find attractive.
Bathrooms: Moisture attracts pests. Examine the bathroom for any cracks and seal off their entryway. Steel wool and silicone caulk offer the best protection from all pests -- even rats and mice.
Living room/front door/entry: Pests can be attracted to all the dirt, clutter, and crumbs that can accumulate where families spend the most time. Move all furniture to thoroughly vacuum the area for crumbs and wash window treatments according to their labels.
Lowe's initially rolled out EarthKind pallet displays in 1,700 stores across the county last December. This was a big achievement for a small brand that stands clean and green against the traditional kill methods that currently make up 90% of all retail DIY pest control.
Media interested in setting up an interview with Kari Warberg Block to learn more about her all natural pest prevention techniques, please contact Danielle Schufreider at danielle(at)adinnyc(dot)com or 212.693.2150 x309.
About EarthKind
Founded by leading pest prevention expert Kari Warberg Block, EarthKind is a pioneer in natural prevention for households everywhere. Its line of pet and planet friendly pest prevention products and rodent repellents provide effective, safe and natural ways to get rid of pests and bring inviting smells into your home. All EarthKind products are made exclusively from plant fibers and oils sourced from American farms, and they're designed by inventive artists, scientists, and engineers who care about the Earth. EarthKind products are made in the USA and the company provides handicapped individuals with meaningful employment. Kari was named to the EY Entrepreneurial Winning Woman Class of 2012, 2013 ND SBA Small Business Person of the Year and National Second Runner Up. Her latest product, Stay Away® was the winner of the 2015 NEXTY People's Choice Award for Best New Product of the Year. Learn more at earthkind.com and on social media: