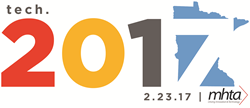 Minneapolis, Minnesota (PRWEB) February 15, 2017
The Minnesota High Tech Association (MHTA) will be hosting Tech.2017 on February 23, 2017 from 7:15-11:30am at the Metropolitan Ballroom in Golden Valley. The event is built around the recent Milken Institute State Science and Technology Index and Minnesota's recent jump from 12th to 7th in the rankings. It will also closely follow the information released in MHTA's latest report on the state of science and technology.
This annual event attracts approximately 200 entrepreneurs, investors, executives, and professionals for a morning featuring a series of conversational sessions, breakfast, and great networking.
"At MHTA, our goal is to make Minnesota a top five science and technology state, and we're getting closer to that goal," said Margaret Anderson Kelliher, president & CEO of MHTA. "Our Tech.2017 event will take a closer look at why we're moving up the rankings and what we still need to do to reach the top five. We look forward to seeing everyone at this exciting and engaging event."
Each panel will examine Minnesota's strengths and challenges based on the index's 5 areas of measurement: R&D Inputs, Risk Capital & Entrepreneurial Infrastructure, Human Capital Investment, Technology & Science Workforce, and Tech Concentration and Dynamism.
Each attendee will receive a talent/workforce report as part of their entrance to the event. They can choose their topic area when they register for the event.
Topics and Speakers include:
Harnessing the Power of Minnesota's Skilled Workforce — Human capital drives economic prosperity. How is Minnesota facing this challenge and leading the way in the use of data to provide better workplace matches?

Sandee Joppa, Executive Director, RealTime Talent
Erin Olson, Research Strategist, RealTime Talent
Turning Our Assets into Prosperity — How Minnesotans turn R&D into a business and the products and services of the future.

Kyle Nelson, CEO, Adventium Labs
Cora Leibig, Founder & CEO, Chromatic 3D Materials
Mobile Drives Economic Growth — Mobile-first strategies are transforming business and the economy. New trends include context awareness, automatic data capture, performance metrics and product innovation.

Jane Bungum, Product & Experience Design Consultant
Loren Horsager, CEO & Co-Founder, Mobile Composer
The Digital Transformation Journey — Digital is disrupting and transforming even the most traditional businesses. Minnesota's progress on the competitive road will impact the future prosperity of our state and people.

Bill Gray, President, Uponor North America
Nancy Lyons, Owner & CEO, Clockwork
Tech.2017 is made possible by the generous support of its sponsors:
Presenting Sponsor: RSM
Event Sponsors: Clockwork, Minnesota Department of Employment & Economic Development, Keyot, VMware
Supporting Sponsors: ESP IT, Marsh & McLennan, Thousand Eyes, Virteva
Those interested in attending can learn more and register here.
About the Minnesota High Tech Association (MHTA)
MHTA is an innovation and technology association united in fueling Minnesota's prosperity and making Minnesota a top five science and technology state. We help bring together the people of Minnesota's technology ecosystem and lead the charge in directing technology issues to Minnesota's state capitol. MHTA is the only membership organization that represents Minnesota's entire technology-based economy. MHTA members include organizations of every size − involved in virtually every aspect of technology creation, production, application and education in Minnesota. Find out more online at http://www.mhta.org or follow MHTA on Twitter at http://twitter.com/MHTA.