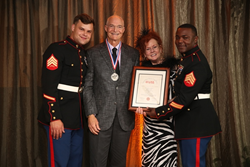 Houston, Texas (PRWEB) March 10, 2017
Dr. Mills is more than a local dentist. He is an active and caring member of his community and church; always active in helping and caring for others. Case in point: Dr. Mills supports Dentistry from The Heart, providing free dental services for those in need; Wagging Tails Animal Relief; MS150 bicycle ride in support of MS research; and many church related activities for the good of his community.
Dr. Mills not only gives back to his community, but by his actions is taking responsibility to improve the conditions in his community and for mankind as much as he can. This is also why he joined the fight against illiteracy at this gala and was awarded the Medal of Duty and a Three Star General's Commanders Award presented by the U.S. Marines.
Looking at the facts, one cannot deny that illiterate children turn into illiterate adults, and those adults who are unable to read at a third-grade level not only feel excluded from society, but they also raise illiterate children, as they cannot teach them how to read. According to recent U.S. Census Bureau reports, more than 20% of children under 18 years of age live in poverty—the highest poverty rate in 15 years. Is there a connection between illiteracy and poverty? That's 15.5 million children! Now, add this to the U.S. Department of Education's National Center of Education statistics whereby 44 million adults are functionally illiterate. According to the National Center for Education Statistics, 21% of the population in Harris County is lacking literary skills. That's close to ¼ of the population. Houston: we have a problem. Furthermore, connect this with the Bureau of Justice statistics that about 41% of inmates in the State and Federal prisons and local jails had not completed high school or its equivalent leads one to ask: Is there a connection to illiteracy, poverty and crime and what are we doing about it?
This is what motivated Dr. Mills and hundreds of attendees of this Gala to participate and ended up ensuring that 110,000 children would receive not only toys for Christmas, which in itself is a great gesture of humanity, but also the gift of literacy and the hopes of a brighter future; thus giving these children a chance to be included and to participate in our free society and to succeed.
Dr. J. Tracy Mills attended the University of Houston & Texas Tech, before getting accepted into dental school in Louisville KY, where he got his dental degree. He has been providing dental care to patients throughout Texas for more than 40 years. Dr. Mills is active in the dental community. Some of the professional organizations he has been a part of include: American Dental Association, Texas Dental Association, Greater Houston Dental Society, American Academy of Cosmetic Dentistry, American Academy of Implant Dentistry, American Academy of Dental Sleep Medicine & LVI Alumni.
Contact:
Mills Dental Group
Houston Dentistry
1011 Highway 6 South, Suite 300
Houston, TX 77077
(281) 556-1606
http://www.sedationdentistryhouston.com