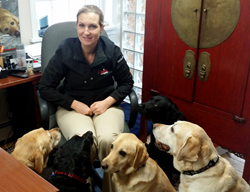 My allergies became so severe that my doctor suggested I change careers.
Wilton, CT (PRWEB) February 16, 2017
For pet lovers who suffer with allergies, the winter months can be a challenge. Pets spend more time indoors when weather is harsh, increasing the allergy sufferer's exposure to hair and dander.
But living with allergies doesn't have to mean life without pets, according to one life-long pet lover and allergy sufferer. Jennifer Hill not only lives with dogs, she works with them. As President of at-home pet care services provider Canine Company, she spends her day surrounded by dogs both in the office and at home.
"I wanted to work with animals from the time I was a child," says Hill. "So joining my family's pet care business was a natural career choice. Even with shots and medication, though, my allergies became so severe that my doctor suggested that I change careers!"
But Hill was passionate about Canine Company's commitment to making pets' lives better. She searched for ways to manage her allergies around pets, and found three things help.
First, she has her dogs groomed frequently. Because the process itself aggravates her symptoms, Hill relies on the company's mobile spa to groom her dogs right in her driveway. "Not only does it remove me from an allergy-inducing situation, it gets all that shed hair and dander out of my house."
Which leads to her second tip: vacuum often. "Even with frequent grooming, our two dogs leave clumps of shed hair everywhere. We have a robotic vacuum cleaner that cleans the floors daily, which helps keep my symptoms to a minimum."
Finally, she says, create dog-free areas in the home. "Keep pets out of the allergy sufferer's bedroom or off the family room couch can make a huge difference." She uses Invisible Fence® Indoor Shields® to keep her bedroom dog-hair free.
For more of Hill's story and tips, visit https://www.youtube.com/watch?v=lVsIGRu3g-8.
About Canine Company
Born of a family's love for dogs, Canine Company provides at-home services to keep pets healthy, safe and happy. The company serves families across New England, New York and New Jersey with the Invisible Fence® brand systems, Manners® dog obedience training, and mobile grooming and pet sitting in select markets. Its charitable Canine Gives campaign supports pet rescue groups and donates pet oxygen masks to first responders. For information, visit http://www.caninecompany.com or call 800-818-3647.