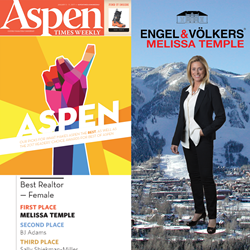 I absolutely love Aspen and the people here. I couldn't be more thrilled than to know their feelings are mutual.
ASPEN, Colorado (PRWEB) February 16, 2017
The Aspen shop of Engel & Völkers, a European-based premium real estate brand, is pleased to announce that Melissa Temple, advisor and partner, was voted the #1 Female Broker in the City by The Aspen Times in its "Best of Aspen 2016" survey.
When asked what she thought of this local honor, Temple humbly replied, "I absolutely love Aspen and the people here. I couldn't be more thrilled than to know their feelings are mutual."
Temple joined the Engel & Völkers team in 2016 and is well regarded as an astute negotiator and top performer who has consistently received the highest ratings of client satisfaction.
Born, raised, and formally educated in Sydney, Australia where she earned a marketing and business degree, Temple also holds an economics degree from the Université de Provence in southern France. For the past 20 years Temple has called Aspen home and is a citizen of the United States. Her sense of adventure and passion for life continues to take Temple around the world with her clients.
"Melissa is a natural salesperson and adept at international transactions. Clients have said she is a 'global phenomenon' and 'one of the finest brokers you've ever known.' It's no wonder she received the #1 Female Broker title," said Summer Berg, co-owner of Engel & Völkers Aspen.
Temple enjoys yachting, is fluent in French, and has a never-ending passion for meeting people from all over the world. Currently she is president of AspenOUT, an educational and all-volunteer non-profit organization that hosts Gay Ski Week in Aspen. Temple is also an enthusiastic supporter of Aspen Film.
A charismatic broker, Temple is a positive realist who prides herself on being innovative, chartering new territory in the luxury home market and fiercely dedicated to getting the job done in the best way possible for her clients.
"I always try to make the selling and buying of real estate an exciting and unique adventure for clients both locally and globally, said Temple. "The international reach and state-of-the-art marketing platforms of Engel & Völkers enable me to offer the utmost level of client services here, at home, in Aspen."
About Engel & Völkers
Since its beginning in 1977 as a specialty boutique providing exclusive, high-end real estate services in Hamburg, Germany, Engel & Völkers has become one of the world's leading companies specializing in the sale and lease of premium residential and commercial property, yachts and private aviation. Engel & Völkers currently operates a global network of over 8,000 real estate advisors in more than 750 brokerages spanning 37 countries across five continents, offering both private and institutional clients a professionally tailored range of luxury services. It established its North America corporate headquarters in 2007 and opened its first brokerage in the same year.
Committed to exceptional service, Engel & Völkers supports its advisors with an array of premium quality business services; marketing programs and tools; multiple platforms for mobile, social and web; as well as access to its global network of real estate professionals, property listings and market data.
Engel & Völkers is an active supporter of the Fair Housing Act and the Equal Opportunity Act. Each brokerage is independently owned and operated.