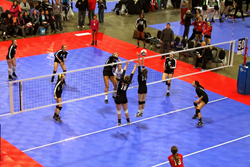 Salt Lake City, Utah (PRWEB) February 15, 2017
The Hawaii Convention center, in Honolulu Hawaii, is set to host the first annual AAU Honolulu Grand Prix, February 18th-20th. The premier volleyball tournament will take place on 26 full size championship courts comprised of SnapSports' 50-50 ShockTower surfacing and culminate on the center Championship court floored with 6000 square feet of SnapSports' Maple TuffShield® with ShockTower technology. SnapSports is proud to have been chosen by AAU as the ideal sports surfacing for top volleyball athletes playing at several levels of competition.
"We are excited to have our product chosen for the championship courts for AAU's Honolulu Grand Prix. SnapSports' patented athletic surfaces are engineered for athlete performance and protection throughout play of ANY sport, at any level. We are ecstatic to be a part of this inaugural tournament and are looking forward to helping it grow for years to come." - Jorgen Moller, SnapSports CEO
The three day AAU Honolulu Grand Prix will feature girls' teams aged 12-18. The tournament will kick off with two days of pool play followed by bracket play on Monday, February 20th. Winners will receive a free entry into the AAU National Championships in Orlando, Florida, the West Coast Championships in Las Vegas, Nevada, or the Volleyball Festival in Phoenix, AZ, all set to take place later this year.
As a first time host of the event, the Hawaii Convention center is well equipped. Their purchase of 90,000 square feet of SnapSports' 5050 ShockTower and 6000 square feet of MapleTuffShield ShockTower is easily capable of supporting the 26 volleyball courts needed for the AAU Honolulu Grand Prix and can also be used as 16 full sized basketball courts for future events. SnapSports' athletic surfaces are engineered to accommodate any sport at any level of competition while guaranteeing to keep athletes of all ages safe. The patented ShockTower feature chosen by the Hawaii Convention center provides a built in shock absorption system to ease impact on athlete joints: no time consuming installation of rubber underlayment needed, saving time and labor for tournament set up and tear down.
About AAU:
The Amateur Athletic Union (AAU) is one of the largest, non-profit, volunteer, sports organizations in the United States. A multi-sport organization, the AAU is dedicated exclusively to the promotion and development of amateur sports and physical fitness programs.
About SnapSports:
Based in Salt Lake City, Utah—the team at SnapSports continues to develop the most advanced, multi-patented, modular sport surfacing and outdoor multi-courts for top athletes the world over. SnapSports manufactures 24/7, in a 100,000 square foot ISO 9001:2008 quality certified facility in Salt Lake City, UT, and is supported by an authorized global network. SnapSports is a family owned and operated company.