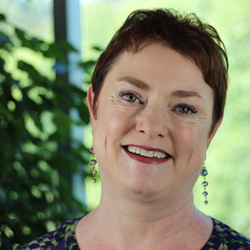 "I am proud that I get to use my education and restaurant operations experience to leverage technology that fills a void in an industry that I love." – Pat Darling, VP of Operations, Ctuit Software
(PRWEB) February 16, 2017
In its inaugural year, the Top Women in Foodservice Technology Awards sought to honor outstanding women from both restaurants and technology suppliers. These women are recognized for their reimagining of restaurant processes and operations, as well as their demonstration of excellence in leadership, inventiveness and skill.
The Lifetime Achievement Award was presented to two particularly exceptional women in the field – Pat Darling of Ctuit Software, and Karen Bird of Buffalo Wild Wings. This award is presented in recognition of a lifetime (no less than 15 years) of service and accomplishments in the foodservice technology industry. These accomplishments cover the individual's overall impact on the technology industry, as well as their specific talents in encouraging colleagues and industry peers, their enthusiasm, their mentorship, and their commitment. Demonstrations of the new applications of technology are also considered.
With more than 20 years of progressively responsible managerial experience in operations, customer service, and restaurant management, Pat joined Ctuit in 2006 to lead the Client Services Department. After 8 years of providing the best service in the industry, she took on the role of Product Manager in 2014. A year later, Pat became Ctuit's Vice President of Operations, where she continues to use her in-depth knowledge of the Ctuit platform, experience in the restaurant industry, and passion for excellence in both service and production to work collaboratively with customers, delivering solutions that are both valuable and practical.
Pat noted, "I am proud that I get to use my education and restaurant operations experience to leverage technology that fills a void in an industry that I love. And I get to pass that passion on to others by leading a continuously growing team that provides unparalleled customer service. Technology is great but there is no substitute for the human touch." She added, "I really love what I do every day, to win an award for it is pretty surreal."
Other 2017 Hospitality Technology Top Women in Foodservice Technology Award winners include Kristen House of Paytronix Systems, Inc., Mukta Joglekar of BlueCart Inc., Stephanie Nardini of Jersey Mike's Franchise Systems, Inc. and Joy Ugi of Orderly for the early stage Rising Star Award. In addition, Sherrill Kaplan of Dunkin' Brands, Anita Klopfenstein of PANERA BREAD, Stefania Mallett of ezCater, Inc. and Na'ama Moran of Sourcery Technologies, Inc. were presented with the Innovator Award.
Winners will be profiled in the March 2017 issue of Hospitality Technology, and honored at an awards program at the 22nd annual MURTEC (Multi-Unit Restaurant Technology Conference), held March 7-9, 2017 at The Rio in Las Vegas.
About Ctuit Software
Ctuit Software is the creator of RADAR, a comprehensive restaurant management software that helps restaurants reduce food and labor costs while streamlining operations. Since launching in 2000, Ctuit continues to solve the restaurant industry's most difficult challenges. The entire Ctuit support team is comprised of seasoned industry veterans providing knowledgeable customer service to help restaurants run seamlessly. This all-in-one software equips restaurateurs with powerful business intelligence and meaningful data to deliver success that you can see and taste. For more information on improving your restaurant's efficiency and profitability, please visit http://www.ctuit.com.