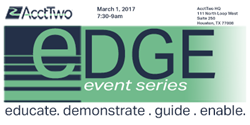 Come have breakfast with us, earn some CPE credit, and learn the latest news in the world of cloud ERP, CRM, and analytics.
Houston, TX (PRWEB) February 15, 2017
AcctTwo, a leading consulting firm and provider of cloud-based ERP and BPaaS solutions, announced that the company will launch its EDGE Event Series on March 1st at its headquarters in Houston, TX. EDGE Events are intended to "educate, demonstrate, guide, and enable" finance professionals and executive leadership at midmarket companies to take advantage of new technologies and best-practices, and to get ahead of regulatory changes. AcctTwo will hold these seminars at the firm's offices and other locations in both Houston and Dallas.
"We're excited to share some of the lessons we've learned helping companies and nonprofits streamline processes, gain greater insight into their businesses, and take advantage of sophisticated technologies that are finally available to organizations of all sizes," said Marcus Wagner, Founder and CEO of AcctTwo. "With customers in 40 states and across many industries - from energy companies to software and SaaS companies to churches and large nonprofits - we have expertise on our team that we're excited to make available to executives, CFOs, and finance leaders."
Event Details:
EDGE Event - Houston - March 1, 2017
AcctTwo Headquarters
1111 North Loop West Suite 250
Houston, TX 77008
CPE Credit - 1hr
AcctTwo's Professional Services Director, Chris Carter, will give a technology update. "The technology available to run your business is changing faster than ever, and it's hard to keep up," says Carter. "Come have breakfast with us, earn some CPE credit, and learn the latest news in the world of cloud ERP, CRM, and analytics. For those of you who are new to the world of SaaS and cloud solutions, or are just looking to keep up with the latest trends, this event is for you. It's also a great way to expand your business network."
RSVP!
This is the first in a regular series of EDGE events AcctTwo will host in both Houston and Dallas. We hope to see you there. RSVP today!
About AcctTwo:
AcctTwo is a leading consulting firm and reseller of cloud-based accounting and ERP software. Our sophisticated systems solve the issues growing middle market companies and nonprofits face today. AcctTwo also provides Business-Process-as-a-Service solutions, allowing clients to focus on the core competencies of their business. We provide the people, processes, technology, and office facilities to perform these functions, while allowing clients to collaborate interactively through an on-line portal.
AcctTwo has offices in Houston and Dallas, Texas. For more information, please visit http://www.accttwo.com or call 713-744-8400.
Contacts:
Peter Wagner
Director of Marketing
AcctTwo
Phone: 713-744-8405
Email: pwagner(at)accttwo.com