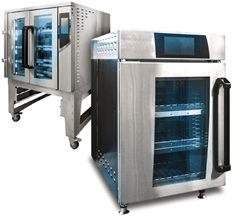 MENOMONEE FALLS, Wis (PRWEB) February 22, 2017
Alto-Shaam is pleased to announce an oven innovation in a category by itself - the Vector™ Series Multi-Cook Oven offers up to four ovens in one. Control temperature, fan speed and time in each individual oven chamber, featuring exclusive Structured Air Technology™ for unmatched evenness in cooking. Alto-Shaam has partnered with Appliance Innovation to introduce this game-changing advancement in cooking technology. Highlights of the Vector Series Multi-Cook Oven include:

Two, three or four ovens in one
Flexibility to simultaneously cook a variety of menu items with no flavor transfer
Control temperature, fan speed and time in each individual oven chamber
Improved throughput - Cook up to 2X more food than a traditional convection oven
Superior cooking evenness
Small footprint
Ventless option
Simple operation does not require skilled labor
No microwaves
No water
Alto-Shaam and Appliance Innovation look forward to our continued partnership as we work together to commercialize the Vector Series Multi-Cook Oven. "Alto-Shaam is always looking for opportunities to provide innovative products that meet our customers' needs," said Steve Maahs, Alto-Shaam president and chief operating officer. "We're excited to introduce this innovative oven to the market. We truly believe this oven is going to be a game-changer in the industry."
Appliance Innovation, lead by Phil McKee, is well known in the foodservice industry for developing innovative technologies, including rapid cook technology in TurboChef®, Planar Plume technology in MerryChef® and Precision Impingement® technology in Ovention®.
"Alto-Shaam's passion for innovation, quality, and service aligns well with Appliance Innovation's dedication to providing breakthrough products to foodservice operators around the world," McKee said. "We look forward to seeing a successful adoption of this new technology by foodservice operators on a global scale."
Alto-Shaam debuted Vector Series Multi-Cook Oven at NAFEM, in partnership with Appliance Innovation. The ovens will be manufactured in the USA at the Alto-Shaam factory in Menomonee Falls, WI. Experience the difference of the Vector Series Multi-Cook Oven.
About Alto-Shaam, Inc.
Alto-Shaam's corporate headquarters, worldwide manufacturing facility, Culinary Institute and Technical Institute are based in Menomonee Falls, Wisconsin. For more than 60 years, Alto-Shaam has been a recognized leader and innovator in the global commercial foodservice equipment industry. With a core business in primary cooking equipment, Alto-Shaam offers an expanded product portfolio that includes award-winning Combitherm® ovens, Halo-Heat® cook & hold ovens, smoker ovens, heated holding technologies, heated display and merchandising solutions, QuickChiller™ rapid chill units, rotisserie ovens, convection ovens, and drop-in hot and cold wells. Alto-Shaam is also the industry leader in providing integrated food production systems for cook/chill, banqueting and rethermalization applications.