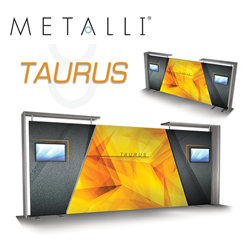 Dallas, Texas (PRWEB) February 16, 2017
The Trade Group is transforming trade show exhibit design with the launch of yet another fabric trade show display, the METALLI® Taurus backwall display.
The Taurus display spans an impressive 20 feet in width and includes modern design features. Multiple, customizable fabric graphics provide unlimited opportunities for branding, and lightweight aluminum construction simplifies setup while keeping shipping costs in check.
The Trade Group's METALLI Taurus fabric display has a multitude of features, including:

Modern angles and dimensional design features. The Taurus display features three large, angled, fabric graphics, which are situated side-by-side. These primary graphics are flanked on either side by fabric-covered, L-shaped canopies. Together, the multiple graphics and angles create depth and visual interest throughout the display.
Custom look at an affordable price. The fabric graphics provide endless options for customization at the fraction of the cost of a traditional, modular trade show display. Plus, marrying fabric graphics with lightweight aluminum components can amount to big savings in shipping and drayage costs.
Easy setup. One of the biggest plusses of the Taurus display is how easy it is to install and dismantle. That's because each of the three main graphic features and two fabric canopies are supported by separate, lightweight framing, constructed of sturdy aluminum tubes. Pillowcase-style, fabric graphics slip easily over the frames and stay put thanks to handy zipper closures. Spigot and snap-button connectors simplify setup, while weighted feet stabilize the display.
Portability. The Taurus fabric display packs down neatly into sturdy, molded shipping cases that keep the display components safe from damage. With built in wheels, the cases are easy to transport and were designed to meet UPS and FedEx shipping requirements.
Flexibility to change the look of the display at a moment's notice. Since the fabric graphics are so easy to install, it's easy to change out graphics from event to event. If your marketing message, branding or featured products and promotions change, no problem. Swapping in new graphics can transform the entire look of the Taurus display or allow you to make quick product updates as needed.
Dual monitor mounts for video displays included. The Taurus backwall display kit comes with two sturdy monitor mounts that hold 32" to 65" monitors, weighing up to 40 pounds. Add complementing METALLI fabric counters – with customizable graphics – to display or demonstrate products nearby.
Room to grow. The METALLI Taurus displays complement other modular components and accessories in our growing line of fabric products. You can expand the footprint of your Taurus display by adding fabric kiosks and LUMIO Light Boxes – or use a Taurus backwall to expand your booth space as your brand grows or needs change.
METALLI Taurus fabric backwall kits can be purchased or rented from The Trade Group. To learn more, call 1-800-343-2005.
About The Trade Group:
The Trade Group is a full-service, award-winning provider of products and services for trade shows, corporate events, retail environments and an endless array of face-to-face experiences. The organization helps clients share their unique stories through a comprehensive suite of solutions that includes: exhibit design and fabrication, graphic design and production, exhibit management, digital applications, video production, exhibit accessories, strategic marketing and more.