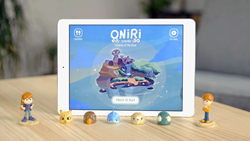 Geneva (PRWEB) February 15, 2017
Tourmaline Studio is excited to announce its participation at GDC 2017 by showcasing its upcoming Toys-to-life adventure mobile game, "Oniri Islands – Children of the River", for both iOS and Android tablets. Oniri Islands is a two player cooperative adventure game where two children, stranded on a mysterious island, search for their lost shadows. They will find animal masks granting them magical powers to survive and pursue their quest. The game features unique interactive smart toys that connect with the adventurous world on the tablet's screen through the static touch of the player. The family-friendly and children's based game will be showcased at GDC PLAY from February 28th to March 3rd as part of the Switzerland delegation – ProHelvetia – booth #PL4729.
Oniri Islands – Children of the River's original storyline is inspired by the Lost Boys from Peter Pan (JM Barry) where the main characters, two twins, Mina and Tim are led by a mysterious chant into Oniri, a magic river that connects universes. Abandoned on an island, they soon realize that their shadows are gone, preventing them from leaving this strange place…Through their encounters, they end-up acquiring magical powers and skills, borrowing from various animal attributes, represented by a corresponding mask physically worn by the figurines (shark, falcon, caracal, chameleon, groundhog).
Oniri Islands – Children of The River Features include:
o Play a tablet game with real toys!
o Beautiful and highly crafted toys to play with.
o 5 animal masks for your toys to wear!
o A collaborative game to share and enjoy together like a boardgame.
o A poetic universe that children and parents will love to explore together.
o A gorgeous minimalistic style, embracing poetic and colorful environments.
o A charming original soundtrack conveying all the poetry and wonder within the scenario.
"Oniri Islands is a project that we have been nurturing for quite some time now and was born out of our love for board games and gaming applications. It's exhilarating to see our concept come to life and we are eager to present the latest version of Oniri Islands – Children of the River to the GDC audience this year. We are celebrating this milestone with our community by inviting them to participate to our photo booth contest" says Camille Attard, Co-founder of Tourmaline Studio.
We are now taking appointments for GDC 2017 if you're interested in trying out the interactive figurines and exploring the creative world of Oniri Islands – Children of the River.
In addition to Tourmaline Studio's participation at GDC, the studio is also announcing a new Kickstarter campaign for Oniri Islands – Children of the River that's scheduled to go live on March 16. The studio is seeking up to $35K to complete the tooling, manufacturing and shipping of the game's first official batch of figurines and accessories. At launch, backers will be receiving their smart toys and enjoy playing the first three chapters of the Oniri Islands adventure.
Tourmaline Studio is also hosting a community contest for Oniri Islands – Children of the River, allowing 15 lucky winners to receive an Oniri Islands game box when it launches later this year. By entering the online virtual photo booth, fans can have their picture taken wearing one of the masks used by the figurines in-game and share it on their social media channels. The winners will be selected randomly, while the person receiving the most likes will win a special limited edition version of the game.
Enter the photo booth contest: http://blog.oniri-game.com/mask-contest-EN
To conclude all the exciting news, we have one last piece of information to share as Oniri Islands – Children of the River received a new teaser trailer today to further establish enthusiasm around the game's participation at GDC '17 and the launch of its Kickstarter campaign.
Oniri Islands: Children of the River Teaser Trailer: https://www.youtube.com/watch?v=VsC9u8bVpN0
Follow Oniri Islands – Children of the River on Social media for upcoming news and announcements:
Twitter, Facebook, Youtube, Instagram, Website
Media Contact:
HomeRun PR
Damien Sarrazin
Damien(at)homerunpr(dot)com
Tel: +1.310.741.8659
About Tourmaline Studio
Tourmaline is a Geneva based interactive studio crafting new kinds of games. Blending tangible and digital realms. Today video games are not only played on one screen as well as the gamepad is not the only way to interact with the game anymore. We believe some of the greatest innovation in games will come from the combination of the warmth and tactile touch provided by physical design with the various interactive possibilities given by new technologies and digital content. Our goal is to create innovative and memorable gaming experiences.