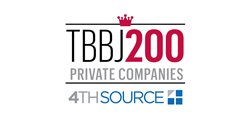 Tampa, Florida (PRWEB) February 15, 2017
4th Source, a recognized software development and IT services company, has been named to the Tampa Bay Business Journal's Top 200 Private Companies list.
The list, based on revenue, highlights companies headquartered in the Tampa Bay area, and includes multiple industries that include healthcare, IT, construction, and retail with a combined 2015 revenue of $66.3 billion.
"We are excited to make this year's list and are committed to helping Tampa businesses with cost-effective IT services," said Joe Aschenbrenner, EVP, General Manager, Enterprise Customers.
4th Source moved its headquarters to Tampa in 2014 as a hub for regional offices and to be more accessible to customers. The company's wide range of offerings include Xamarin mobility development, ServiceNow partner services, and digital transformation services.
About 4th Source
4th Source provides powerful, cost-effective IT services as an alternative to offshore outsourcing. Headquartered in Tampa, FL, 4th Source employs over 500 people who help performance-driven businesses with IT, business process services, data services, and application development. The hybrid nearshore-onshore model offers convenient proximity, efficiency gains, and significant cost savings.
4th Source has been recognized by Inc. magazine as one of the 5000 fastest growing companies in America six times.
To find out more, visit http://www.4thsource.com.