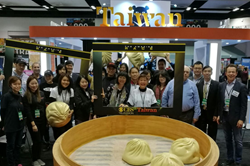 (PRWEB) February 14, 2017
The annual Bay Area Travel & Adventure Show took place the weekend of February 11-12 at the Santa Clara Convention Center. The Taiwan Tourism Bureau San Francisco Office collaborated with Taiwan's travel agencies and airlines to offer visitors the most extensive presentation of Taiwan tourism at this bustling two-day event.
This year, the Bureau forged a special partnership with "The Amazing Race" and invited the game host Phil Keoghan to the event on Saturday, February 11 to hold an open casting call. Over 800 pairs of contestants signed up. The Taiwan booth hosted the registration and helped all the challengers to get ready and warm up! In addition, EVA Air and China Airlines gave away four round trip flight tickets from SFO to TPE, along with Taiwan trip prizes from travel agencies. It was an exciting opportunity to visit Taiwan for free for all the attendees.
The Bureau had prepared many great deals and fun activities for the visitors, including a giant soup dumpling sculpture at the Taiwan Pavilion, and an interactive green screen photo booth where attendees took pictures with their favorite Taiwanese attractions as the background. The adorable and cheerful Oh!Bear was also there to take pictures with visitors and handed out a limited edition hand held lantern. Visitors also got to taste the authentic Taiwanese pearl milk tea and enjoyed wonderful music performances.
Please log on to Taiwan Tourism Bureau's Facebook Fan page http://www.facebook.com/itstimefortaiwan for the most updated Taiwan tourism news and event details!