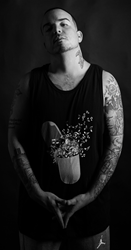 ALBUM TO BE RELEASED APRIL 25TH, 2017
NATIONWIDE (PRWEB) February 16, 2017
Wait No Longer!
Nique-O is back on the scene by popular demand with his new album "Face Value", his own record label and production/publishing companies. There has also even been talk of an up and coming tour. For media and all booking inquiries contact: niqueobooking(at)yahoo(dot)com.
Nique-O is sweeping the nation with this amazingly intelligent collaboration of talent, skill, and passion that critics have referred to as nothing short of a musical masterpiece. This ground-breaking new album aka "Face Value" is a long awaited treasure that will take the world by surprise. Five years in the making, this 17 track studio album delivers non-stop persistence and versatility that appeals to all music lovers regardless of their taste in music. This album truly tells a story of perseverance despite any obstacle. Guaranteed to take Its listeners on an uplifting journey through a strategically planned collage of songs that are sure to invigorate the mind, body, and soul.
Hit singles include: I'm The Best, Let It Go and Clover. Ingenious and controversial lyrics such as ones in "Here We Go" ft. Joe Budden, make each and every song hit-worthy. "Trust me you won't touch the skip button!" Nique-O's versatile and innovative style and expertise have proven him to be an inspirational pioneer of his enterprise. During a time when the industry is flooded with so many repetitious and meaningless songs, this promotional album absolutely challenges the uniformity of modernism in every way. Throughout an era of so much disarray, confusion, and negative output, Nique-O's influential and positively inspirational lyrics continue to supersede. The world-class talent portrayed through Nique-O's work and dedication is undisputed in a generation where independent artists are on the rise! With powerful messages that enlighten people and lift spirits, Nique-O's positivity, creativity and confidence make him an inspirational leader of his generation.
MANAGEMENT CONTACT: NIQUEO(at)YAHOO(dot)COM
Soundcloud.com/nique-o
Facebook.com/niquethereal
Youtube.com/user/youngniqueo