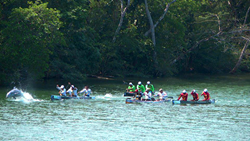 the race is invaluable in promoting environmental and cultural awareness
San Ignacio, Belize (PRWEB) February 16, 2017
Belize's annual La Ruta Maya River challenge is one of the longest, most gruelling canoe races in the world. It is also a way to raise awareness about the beautiful river system that was once the "superhighway" of the ancient Maya, according to the owners of The Lodge at Chaa Creek, who are inviting visitors to join this year's excitement with special Belize vacation packages.
But, with the 2017 running of the annual race being held from March 3 to 6 this year, prospective spectators need to act quickly, they advise.
Chaa Creek owners Mick and Lucy Fleming said the race has always held special significance for the popular Belizean eco-resort.
"When Chaa Creek was still just our little remote farm on the banks of the Macal River, the river was our lifeline to the outside world, just as it had been for people here for centuries, from the ancient Maya to the first woodcutters, settlers, chicleros, hunters, missionaries, farmers, adventurers, and other travellers" Lucy Fleming explained.
"There were no roads into the area when we first moved here, just horse and cattle trails, and like our neighbours we used a dugout canoe to get our produce to market, and bring back everything we needed. In time we purchased a tractor and eventually a road was constructed, but even to this day, the Macal River is tremendously important to us."
The La Ruta River Challenge was the brainchild of Belizean entrepreneur Richard Harrison, who started the race in 1998 in part to promote a line of purified water, sport and soft drinks and partly to raise awareness of the importance of Belize's network of rivers and the need for conservation.
Starting in San Ignacio Town, downriver on the Macal River from Chaa Creek, three person teams paddle 175 miles to the finish line in Belize City, overnighting in the riverside villages of Banana Bank, Double Head Cabbage and Burrell Boom before the final sprint to Belize City on "National Heroes and Benefactors Day", a public holiday in Belize.
Last year some 100 teams from Belize, the United States, Canada, Japan, Great Britain and other countries participated. Hundreds of people line the shores in San Ignacio, and along the race route, especially at villages such as Teakettle, More Tomorrow, Bermudian Landing and other rural communities, with exuberant parties and barbecues held during the overnight stops.
Ms Fleming said that Chaa Creek, as one of Belize's earliest and most highly awarded eco-resorts, has long supported the La Ruta Maya for its role in highlighting the beauty and fragility of Belize's rivers as well as Belize's Maya heritage (La Ruta Maya is Spanish for "the Maya Route"). In recent years, Chaa Creek, which maintains a fleet of canoes as well as a canoe and furniture building shop, has been building canoes specifically to take part in the race.
During the 2012 La Ruta Maya, Great Britain's Prince Harry, a Chaa Creek guest at the time, christened one of the Belizean eco-resort's custom built canoes for the British High Commission's entry during Queen Elizabeth II's Diamond Jubilee.
"La Ruta Maya is something we really look forward to each year, and right now some of our staff members are preparing the canoes and training for what is always a very gruelling challenge. In addition to uniting the nation in an exciting sporting event that is uniquely Belizean, the race is invaluable in promoting environmental and cultural awareness. The coverage allows people to see how beautiful our rivers are, and why it's important to keep them clean and unpolluted.
"The rivers are also an important part of Belize's history and cultural heritage. The Maya Empire flourished for thousands of years along these rivers, with vibrant trade from the highlands of Guatemala all the way to Belize's Caribbean seacoast, where sea trade routes were protected by the great Mesoamerican Barrier Reef and ran from Mexico down to Panama and perhaps beyond.
"And during the colourful 'Pirates of the Caribbean' days, buccaneers used the treacherous reef passes to their advantage, and hid their treasures up along the rivers. All along the river there was ample timber for shipbuilding and repairs and plenty of game for hunting and smoking. In fact, the name 'buccaneer comes from word for smoked meat. And of course, the rivers were the primary means of transport since the early days of European and African settlement, just as they were for us," Ms Fleming said.
Since 1981 Chaa Creek has introduced thousands of visitors to Belize's rivers with guided tours and expeditions, and encouraging guests to paddle downstream along the usually tranquil Macal River to San Ignacio town, Ms Fleming said.
"It's a lovely day trip, and a great way to see birds and other wildlife while taking part in an activity thousands of years old. A stop at the community of Cristo Rey allows visitors to experience traditional village life, and canoeing opens up a whole new world for many people," she said.
Visitors can experience the La Ruta Maya simply by booking a stay at Chaa Creek and organising any one of a number of excursions including the early morning race start in San Ignacio, or by booking all-inclusive Belize vacation packages such as the Belize Adventure or Inland Expedition packages, where one set price includes everything from pick up and drop off from Belize International Airport, all accommodation, meals, access to activities and amenities within Chaa Creek's 400-acre private nature reserve and more.
"It's a very carefree and surprisingly affordable way to enjoy a Belize vacation, and during the La Ruta Maya we work with guests to allow them to participate and see as much of the race as they wish.
"It's a great time of year to be here, with a festive atmosphere and the entire country enjoying the long weekend. It's one of those opportunities to experience something uniquely Belizean that draws a growing number of international competitors and audiences.
"And if the Chaa Creek entry wins this year, we can promise a memorable celebration here at the Lodge," Ms Fleming said.
The Lodge at Chaa Creek is a multi award winning eco resort set within a 400-acre private nature reserve along the banks of the Macal River in Belize. It is currently a finalist for National Geographic's 2017 World Legacy Awards.
ENDS