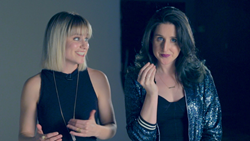 Los Angeles, CA (PRWEB) February 15, 2017
On Monday, February 20, 2017, Blue Fever will go live in a limited-release beta run, making history as the first completely female-led original streaming content provider.
Blue Fever was founded by Greta McAnany and Lauren Tracy after becoming increasingly aware of a problem and an opportunity. According to recent Polygraph research citing two thousand screenplays, female actors were leads in twenty-two percent of films. What's more, female led movies have recently begun outperforming male-led movies by an average of about fifty-six percent. Realizing the dearth of female writers, directors, producers, and lead actors in Hollywood films meant that enormous profits could be made through providing a platform for female creators.
"There are 850 million millennial women worldwide who are hungry for incredible entertainment made for them," says Tracy. "So we're building a platform to house that content."
They began developing a brand new streaming platform, Blue Fever, which is being touted "a cooler Netflix for women."
The beta version of the new platform is invite-only, and is free at this stage. For those excited to try out the platform but lacking an invitation, they can request an invitation at http://bluefevr.com/secret. During the invite-only period, Blue Fever will release a new password every week for beta access, which will connect users to a specially-curated selection of content which will give a taste of the quality of content to be available in the full version. This will include webseries, short films, sketch videos, and music videos created by modern women, for modern women.
Blue Fever's creators, Lauren Tracy and Greta McAnany, are both filmmakers themselves, and will contribute their own content to the app via vlog-style reviews and discussion pieces wherein they let audiences know which videos are their favorites in a given week. They are real-life best friends, and their sister-like banter is its own entertainment.
Aiding Tracy and McAnany in seeding this ground-breaking platform with quality entertainment are hundreds of female content creators, including:
Josie Kaye
Josie Kaye is a writer, actor, filmmaker and comedian best known for her YouTube series, The Doctor Josie K Show, where she portrays hyperbolic and hilarious characters. One such character, Olivia von Klimpf, is an out-of-touch and egocentric fashion icon and the inspiration behind Kaye's new short film, Making Olivia.
Kris van Genderen
Kris van Genderen, founder of KVG Films, is a filmmaker whose narrative and documentary projects explore the human experience. She recently launched Dock Your Memories, a production company that focuses on capturing memories and stories in a cinematic way to create digital legacies for generations to come. Van Genderen's work has been featured at film festivals around the world including: Cannes Lions, BFI London Film Festival, SXSW, Barcelona, and Tribeca Film Festival.
Tess Bellomo and Hannah Bear
Tess Bellomo and Hannah Bear are the creators, producers, writers and actresses behind Liked, a comedy web series that explores the Millennial generation's obsession with social media and desperation to feel accepted. Bellomo and Bear explore these cultural norms through the story of Savannah, a relationship blogger who fabricates all details about her love life in order to feel a sense of success. Once her dedicated followers ask her to substantiate her claims, with the help of her cynical roommate, Taylor, Savannah needs to quickly discover how far she is willing to go to be liked. Bellomo and Bear are currently in the middle of filming their second season, adding writer Ellie Monahan to the team. See them on YouTube here.
A date for end of beta and release of full platform has not been set, but it is likely to be within the first half of 2017.