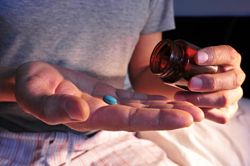 We believe these two sessions that combine research and what is happening on the ground will be of great value to our audience.
Cambridge, MA (PRWEB) February 15, 2017
The latest opioid prescribing trends, first-hand accounts of how states are combating the opioid epidemic, and alternatives to opioids will be discussed during two exciting sessions at the Workers Compensation Research Institute's (WCRI) 33rd Annual Issues & Research Conference, March 2-3, 2017, at the Westin Copley Place Hotel in Boston, MA.
"The dangers of prescription drug misuse resulting in death and addiction constitute a top public health problem in the United States and the workers' compensation community," said WCRI CEO John Ruser. "We believe these two sessions that combine research and what is happening on the ground will be of great value to our audience."
The first session discusses WCRI's latest research on interstate variations and trends in the use of opioids for workplace injuries across 25 states. It also features senior policymakers from two states, Massachusetts and Kentucky, who will share initiatives taken by their states to combat the opioid epidemic, prevent inappropriate opioid use, and provide help for those battling addiction.
The second session will discuss two emerging alternatives to opioids: marijuana and evidence-based non-pharmacological treatments, including mindfulness-based and cognitive behavioral approaches. The latest research on these alternatives will be discussed as well as first-hand accounts from senior policymakers in Maine and Colorado on what it is like to manage a program treating injured workers with marijuana, which is very new and federally illegal.
The WCRI conference is a leading workers' compensation forum for policymakers, employers, labor advocates, insurance executives, health care organizations, claims managers, researchers, and others. The two-day program highlights WCRI's latest research findings while drawing upon the diverse perspectives of highly respected workers' compensation experts and policymakers from across the country.
For more information about the program, or to register, click on the following link: http://www.wcrinet.org/conference.html.
ABOUT WCRI:
The Workers Compensation Research Institute (WCRI) is an independent, not-for-profit research organization based in Cambridge, MA. WCRI was founded in 1983 and is recognized as a leader in providing high-quality, objective information about public policy issues involving workers' compensation systems. WCRI's members include employers; insurers; governmental entities; managed care companies; health care providers; insurance regulators; state labor organizations; and state administrative agencies in the U.S., Canada, Australia, and New Zealand.