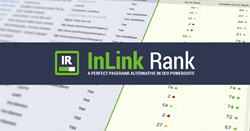 (PRWEB) February 15, 2017
For years, Google PageRank used to be the SEO industry standard for measuring the importance of web pages and the algorithm behind the pursued Google rankings. Recently, the access to the public version of PageRank has been closed, and online marketers have gone blind about how authoritative their websites are. Today Link-Assistant.Com released an alternative to PageRank, InLink rank, which at large replicates the original PageRank formula. Link-Assistant.Com is the company behind SEO PowerSuite, professional software for full-cycle SEO campaigns.
About InLink Rank
In a nutshell, PageRank is assigned based on the number and quality of the page's inlinks. Like Google's PageRank, SEO PowerSuite's InLink Rank is a score that estimates link popularity, determined by the number and quality of incoming links to the page.
Inlink Rank is based on the same algorithm as the original Google PageRank. It's a score on a logarithmic scale from 0 and 100. InLink Rank is being re-calculated non-stop; on average, a certain site's InLink Rank can be expected to be updated at least once a month.
InLink Rank in SEO PowerSuite
InLink Rank is available in the three of the four SEO PowerSuite products: WebSite Auditor, SEO SpyGlass, and LinkAssistant. To make use of the new functionality, users need to add InLink Rank and Domain InLink Rank columns to their workspaces in the software.
Below are the areas, in which InLink Rank can be helpful to SEO PowerSuite users:
1. Tracking authority of domains and web pages.
2. Understanding the value of every backlink.
3. Analyzing authority of link prospects.
4. Redistributing link juice among the different pages of one's website.
5. Estimating the authority of competitors' websites.
6. Getting more accurate data for Keyword Difficulty, Penalty Risk, Domain Strength, and Link Value metrics, which are now based on the InLink Rank.
More information about SEO PowerSuite's InLink Rank is available at the official website. SEO industry professionals are invited to follow Link-Assistant.Com on Facebook fb.me/LinkAssistant, Twitter @LinkAssistant and Google Plus gplus.to/LinkAssistant and to subscribe to the company's blog.
About Link-Assistant.Com
Link-Assistant.Com is an industry-leading software house, with a focus on developing tools for smarter Internet Marketing. The company's range of products includes SEO PowerSuite (end-to-end Internet Marketing Tools) and the recently-launched Awario (an online app for monitoring social and web mentions).