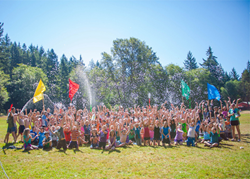 Colorado Springs, Colo. (PRWEB) February 17, 2017
Christian Camp and Conference Association has launched The Power of Camp, a nation-wide campaign to send thousands of underprivileged kids to camp. The campaign also helps spread the word about the wide variety of camps available for kids and families.
Why Camp?
"Imagine the impact if any kid, anywhere could go to camp regardless of their ability to pay. Imagine if kids struggling with their identity, longing to be loved, faced with huge peer pressure or thoughts of self-injury could experience in a beautiful place the love of a God who has a plan for their lives," said Gregg Hunter, CCCA President/CEO.
More than five and a half million guests go to a CCCA member camp each year. Camp provides incredible opportunities that kids might not have access to otherwise. At camp, kids get to spend 10,080 minutes away from normal pressures of life. Camp offers positive adult role models, freedom to be unplugged from technology, high-adventure environments and a place to build lifelong friendships.
Facts:
Current Status of America's Youth

The Remedy

Kids are able to put away cell phones and develop social skills in a temporary community.
Camp offers an array of activities like hiking, swimming, horseback riding, kayaking and field games—plenty of ways to burn energy, get moving and build confidence.
Trusted adults and camp staff create space for kids to ask important questions, navigate tough decisions and take time to think without distractions.
Campers explore nature, play games and simply get to be kids, which results in healthier lifestyles.
CCCA offers a search portal that allows parents or youth leaders to find a camp based upon activities, amenities and locations: http://www.ccca.org/go/findacamp.
Visit our Facebook page to see the latest graphics, stories and stats from The Power of Camp.
To book an interview with CCCA CEO/President Gregg Hunter, or to gain access to real stories of lives changed at camp, photos, videos or a visit to camp, please contact: Leah Hill at lhill(at)ccca(dot)org.