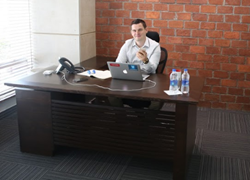 GURGAON, India (PRWEB) February 17, 2017
Contentmart, an online portal that connects freelance copywriters and editors with content buyers from around the world, continues expanding its reach worldwide.
"We're seeing an explosion in demand for online content worldwide, yet many companies find it difficult to recruit and retain highly-skilled content producers," said Contentmart Founder Anton Rublevskyy. "Our mission is to provide writers and businesses with a one-stop solution to earn from and access quality-written content on a global scale. It's complete end-to-end solutions combined with an intuitive, user-friendly experience."
Just one of the key factors contributing to Contentmart's growth is an upward trend in the marketing world with studies showing over 55% of marketers are increasing their content marketing budget.
With an ever-growing user base of writers and editors located all over the globe, Contentmart is particularly valuable for companies with a global audience -- providing content buyers with the ability to view writers categorized by location, language, and their industry expertise and project type area of focus.
Since its August 2015 launch, over 50,000 writers and more than 63,000 clients have registered on Contentmart, with over 20,000 projects completed to date.
The startup is currently comprised of 40 team members operating across Gurgaon, India and Kiev, Ukraine, and has secured partnerships with companies like H&R Block, Unicef, Aviva, and The Economic Times, among others.
Contentmart focuses solely on facilitating comprehensive content writing services, including business writing, web page content, articles, blogs, press releases, travelogues, case studies, whitepapers, and academic writing across print, electronic, and digital media platforms.
The company offers dedicated account managers for clients who have large scale content needs and rigid deadlines -- helping them save time and concentrate on their core competencies.
Following a free registration, content buyers create an order by filling in the order details and receive bids from verified writers, who list fixed prices for completing the order. Buyers can view writer portfolios, client reviews, areas of expertise, and qualifications to help narrow down the candidate best suited for their specific project. Clients make payments directly to their designated writer upon completion and only if they are satisfied with the finished product.
Before they can start bidding on projects, writers must complete a multi-level screening process that includes a writing and an English language examination to demonstrate their ability in their chosen writing language. Writers can also opt to further build their skillset with additional exams designed by professional, native linguists. Unlike many competitors who charge up to 40% commissions, Contentmart only retains a 10% commission from the writer's order total.
Contentmart is also in the process of rolling out several new features within the first half of 2017. Releases include multilingual content writing services and translation services, enhanced content distribution and promotion, and an API that automatically checks content for grammatical errors.
A built-in chat messenger will also enable clients and writers to communicate with each other in real time, and anti-plagiarism algorithms that verify content originality.
"With the constant evolution of technology, maintaining a digital presence is an absolute must for twenty-first century businesses," said Rublevskyy. "And it's also directly contributed to major growth in the freelance space. With Contentmart, we're entering the right market, at the right time, and with a platform that makes bridging the gap between businesses and the freelancing community much simpler and much more value-driven."
To learn more about Contentmart and what they have in store for all freelancers and businesses, visit their site here.