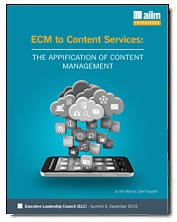 "The ECM space is morphing from a defined technology or platform to a set of content services utilized with data to fuel business processes and applications"
Silver Spring, MD (PRWEB) February 16, 2017
Disrupted by cloud, mobile, consumerization, and the Internet of Things, IT investments and purchases now take place at the business level, according to discussions between industry thought leaders at two recent AIIM Executive Leadership Council (ELC) summits. Increasingly, business buyers seek solutions that are simple, smart, and safe.
"The ECM space is not immune to these new buyer sentiments. It is morphing from a defined technology or platform to a set of content services utilized with data to fuel business processes and applications," said John Mancini, Chief Evangelist at the Association for Information and Image Management (AIIM). "This growing demand for modular process-specific apps and SaaS solutions is changing the product development and go-to-market strategies of our members."
Executives from organizations such as Gartner, NASA, Microsoft, and IBM, as well as a number of other buyers and sellers of information management solutions in North America and Europe were involved in the ELC summits. Distillation of their insights and comments resulted in five key strategies proposed by AIIM for making sense of this change:
1. Redefine "Enterprise Content Management" as Content Services Used in the Context of Applications. The ECM space is no longer just about technology, content, and digitization. Rather, it is about discrete solutions to business problems with ubiquitous access to information wherever it is.
2. Understand What it is About Apps and SaaS That is so Compelling. Unless a solution looks like an app, is deployed like an app, and is as easy to use as an app, it will now face adoption challenges in the enterprise.
3. Understand the Process Implications of the Revolution Created by Apps, SaaS, and Consumer Technologies. It changes the very nature of the questions – around information fragmentation and usability – that organizations must ask in order to stay innovative.
4. Adopt a Revolutionary Mindset. Embrace a set of day-to-day operating assumptions that are vastly different from the command and control mindset typical of many governance-driven content initiatives.
5. Focus on Customer Journeys and Problem Solving. According to futurist, Thornton May, "the new dialog has to be about the problems customers are facing, not the offers organizations are selling."
A full list of ELC summit participants and the executive report can be downloaded here.
About AIIM
AIIM has been an advocate and supporter of information professionals for 70 years. The association's mission is to improve organizational performance by empowering a community of leaders committed to information-driven innovation. AIIM is a global, non-profit organization that provides independent research, education, and certification programs to information professionals.
About AIIM Executive Leadership Council
The AIIM Executive Leadership Council brings together top thinkers, high performance practitioners, and leaders in Information Management to discuss, define, and direct the future of the industry.
# # #
Contact:
Jessica Lombardo, CIP
AIIM
jlombardo(at)aiim(dot)org
+1 (202) 649-0270