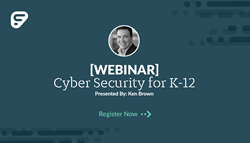 Frontline Education provides actionable insights to K-12 organizations that support their goals, including the protection and privacy of student and employee data.
Malvern, PA (PRWEB) February 15, 2017
What: Security incidents continue to escalate across the K-12 industry and school districts hold a wealth of personal information that cybercriminals and data pirates would love to get their hands on. Yet, many school districts lack the cyber security resources to combat these threats – making them easier targets. Frontline Education, an integrated insights partner to more than 9,500 K-12 organizations nationwide hosts a webinar for districts looking to prepare against threats to obtain sensitive employee and student information and ensure compliance with constantly-changing student data privacy laws.
Who: Kenneth Brown (Chief Information Security Officer) will speak about leading practices, practical tips and effective planning for data protection in K-12 organizations. Ken has more than 20 years of experience in IT and Security, working with companies including IBM, KPMG and Deloitte. He brings a wealth of knowledge and experience to the critical issue of cyber security. Prior to working at Frontline, Ken consulted to multiple industries on cybersecurity, and is currently active in the security and K-12 tech communities.
Where: Online Session. Register for the Webinar.
When: Wednesday, February 15, 2017. 2:00pm EST
Why: Frontline Education isn't just a technology company, but a partner to the education community, dedicated to providing actionable insights to K-12 organizations that support their goals, including the protection and privacy of student and employee data.
About: Frontline Education is an integrated insights partner serving more than 9,500 K-12 organizations and millions of educators, administrators and support personnel in their efforts to develop the next generation of learners. With more than 15 years of experience serving the front line of education, Frontline Education provides actionable intelligence that enables informed decisions and drives engagement across school systems. Bringing together the best education software solutions into one unified platform, Frontline is pioneering a human capital management approach that meets the unique needs of education. The Frontline Insights Platform makes it possible to efficiently and effectively manage the administrative needs of the education community with solutions including Frontline Recruiting & Hiring, Frontline Absence & Time, Frontline Professional Growth and Frontline Special Ed & Interventions. Frontline Education corporate headquarters are in Malvern, Pennsylvania, with offices in Andover, Massachusetts, Rockville Centre, New York and Chicago, Illinois.
Learn more at http://www.frontlineeducation.com.