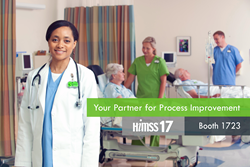 Health systems must see more patients while still providing better customer service and outcomes. See how Versus uniquely applies RTLS technology meet these challenges at HIMSS17 booth #1723.
Traverse City, Mich. and Dayton, Ohio (PRWEB) February 15, 2017
Attendees looking for a real-time locating system (RTLS) vendor at the annual Health Information Management Systems Society conference (HIMSS17) will find a true partner for process improvement at the Versus Technology booth, #1723.
Healthcare today is undergoing rapid changes, with care quality and the patient experience taking the forefront. The shift from volume-based to value-based care and increasing patient populations means health systems must see more patients while still providing better customer service and outcomes. Doing so consistently across the entire integrated delivery network (IDN) adds another layer of complexity. To see how Versus uniquely applies RTLS technology meet these challenges, don't miss the following events and announcements at HIMSS17.
HIMSS Education Session #156: Using RTLS Data to Increase Capacity in Ambulatory Care — Join Dan Hamilton, COO of Nor-Lea Hospital District, as he shares how their clinic dealt with a 78% increase in patient population over just two years. Learn how they used Versus to gather data and engage staff for process and workflow improvement, increasing capacity by nearly 50%.
Live RTLS Experience Center Demonstrations — Visitors to booth #1723 can see first-hand how Versus improves the delivery of quality care while enhancing the patient experience — at every touchpoint across the IDN, including the ED, OR, inpatient units, cancer centers and ambulatory clinics. Delivered by our Lean Six Sigma healthcare consultants in a live RTLS environment, the demonstration showcases real-time and reporting software that drives workflow in the moment and provides historical metrics for process improvement initiatives.
Live RTLS Analytics Demonstrations — After a high-level overview of Versus reporting in the Experience Center, take a deep-dive into the newly released Reports Plus™ Analytics 5.3. With new options for managing and reporting on multiple workflow operations across an entire health system, RTLS analytics have never been more integral to providing operational intelligence across the entire IDN.
New Hand-Hygiene Alliance to Improve the Safety of Patient Care — Versus is expanding its hand hygiene solutions by teaming up with GOJO® Industries. Hospitals that implement Versus Advantages™ Hand Hygiene Safety will have the option to deploy GOJO PURELL® smart dispensers integrated with Versus, in addition to the GP PRO (Georgia-Pacific Professional) SafeHaven™ Automated Hand Hygiene Monitoring System. See all the solutions at booth #1723.
New Sensor Plus to Enable BLE Wayfinding — Hospitals considering wayfinding applications using Bluetooth Low-Energy (BLE) beacons will want to see the latest infrared sensor in Versus' 11th-generation sensory network. Equipped with a USB port, the new Sensor Plus not only provides KLAS-leading location accuracy* for people and equipment, it also supplies constant power to plug-and-play BLE beacons, allowing Versus customers to easily expand their RTLS investment with a ready-made wayfinding network that never needs battery changes.
For more details on all Versus HIMSS17 events, visit versustech.com/himss.
Midmark Corporation acquired Versus Technology, Inc. in May, 2016, creating a unique offering of clinical workflow solutions that encompass clinical workflow services, RTLS technology, medical equipment, diagnostic devices and design assistance for improved efficiency within health systems. '
*Source: "Real-time Location Systems (RTLS) 2016," July 2016. © 2016 KLAS Enterprises, LLC. All rights reserved. http://www.KLASresearch.com.
The GP Georgia-Pacific logo, SafeHaven, SafeHaven with design, enMotion and the hand wave design are trademarks owned by or licensed to Georgia-Pacific Consumer Products LP and are used herein with permission. The enMotion® dispenser is only available for lease through an authorized GP distributor.
About Versus Technology, Inc.
Versus Technology, Inc., a Midmark company, provides healthcare facilities with operational and clinical workflow intelligence using real-time locating system (RTLS) technology. Since its inception in 1988, more than 850 hospitals, clinics and senior care facilities have used Versus solutions to support healthcare's ultimate goals: enhancing the patient experience while providing high-quality care at lower costs. With enterprise solutions for patient tracking, workflow automation, staff safety, hand hygiene and asset tracking, Versus improves patient flow, communication, and productivity to ultimately increase capacity. To learn more about Versus Technology, Inc., our technology and client successes, visit versustech.com.
About Midmark
Midmark Corporation, a privately held company founded in 1915, is committed to providing innovative products and workflow solutions to healthcare professionals around the world. Offering full lines of exam and procedures tables, as well as workstations, casework, instrument processing, digital diagnostics solutions, real-time locating system (RTLS) technology and more. Midmark is focused on continuously improving physician workflows and enhancing patient-caregiver interactions. Midmark's more than 1,500 teammates worldwide are dedicated to redefining the future of the clinical space and making a positive difference in the practice of healthcare. Headquartered in Dayton, Ohio, Midmark maintains production and administrative offices in Versailles, Ohio, as well as six other locations in the United States and international locations in India, Italy and the United Kingdom. To learn more about Midmark, visit midmarkclinicalsolutions.com or midmark.com, and follow Midmark on Facebook, LinkedIn, Twitter and YouTube.
Safe Harbor Provision
This release may include forward-looking statements which "bespeak caution," and which are subject to risks and uncertainties that could cause actual results to differ materially from the forward-looking statements. The statements are made only as of the date of this release, and the Company undertakes no obligation to update them to reflect subsequent events or circumstances.
###