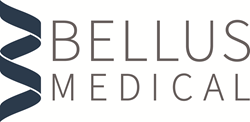 We are excited to introduce our new look as we expand our reach in the medical aesthetic marketplace.
Addison, TX (PRWEB) February 15, 2017
Bellus Medical, a leader in medical aesthetics, has unveiled a new brand identity as it prepares for significant growth and elevates its position as a global brand. Since 2012, the company focused on building a solid foundation and since has experienced a steady, healthy growth. From start up to quickly becoming a leader in microneedling technology, Bellus now expands the product portfolio to include Platelet Rich Plasma (PRP) and two additional breakthrough technologies slated to launch this year. As the business needs evolve, the company continues to respond to consumer demand, and rebranding is part of that evolution.
"We are proud to announce the launch of the new company logo as part of the ongoing evolution of our company's brand," said Jelena Boldt, Senior Director of Marketing. "We are excited to introduce our new look as we expand our reach in the medical aesthetic marketplace, build global brand awareness and strengthen our position as an industry leader."
The strategy behind the new Bellus Medical look is part of an ongoing effort to build on the company's reputation for developing safe, efficacious and superior product technology. This brand identity includes an upscale new logo, modern color palette and photography that appeals to key target demographics, all of which will be reflected in the company's print and digital marketing materials.

Branding – As Bellus Medical moves into a significant growth period, the clean, "sophisticated science" look is part of a transformation to increase awareness, appeal to new markets and broaden its reach.
Logo – The first component of the new brand identity is an update to the logo, which conveys the company's strong, unique value proposition in medical aesthetics. The Bellus helix is symbolic of the sophisticated science and technology behind the products. The mark doubles as a "B" and "M" on its side, and the wordmark is composed of clean, slender letterforms. The emphasis is on the word "Bellus" as it is the Latin word for "beautiful."
Website – The redesigned http://www.bellusmedical.com website incorporates the look and feel of the new brand and serves as an informational resource that is customized by the audience to enhance user experience. Social media platforms and microsites will follow suit with focused strategy and new branding in the coming weeks.
Marketing – Bellus Medical will increase its presence and visibility at trade shows that include The American Academy of Dermatology (AAS), The Aesthetics Show, American Society for Dermatologic Surgery (ASDS) and American Society of Plastic Surgeons (ASPS), as well as tradeshow speaking engagements. One example includes Dr. Thomas Hitchcock, Bellus Medical Vice President of Medical & Clinical Affairs, who will speak at Skin Care 2017 in April for The Society of Plastic Surgical Skin Care Specialists. Additional efforts include inbound marketing campaigns, media outreach and various digital marketing and educational campaigns.
Office Move – New look, new office. Bellus Medical has outgrown its original office space and moved to Addison, a thriving suburb just north of Dallas, Texas. With more square footage and a modern feel, this new space will be a better fit for the growing organization. In addition, it will enhance the level of service offered to practice partners, and better reflect the personality and identity of the brand. Effective Feb. 15, 2017, the new address is: 4505 Excel Parkway, Suite 100, Addison, TX 75001.
"The goal is that practice partners and consumers alike will be connected to Bellus Medical and be proud of the brand they represent," Jelena added. "We're thrilled with the response received from our stakeholders and we look forward to an exciting road ahead as we take our business to the next level."
About Bellus Medical
Bellus Medical is an industry leader in medical aesthetics. Our customers are our focus which is why we are committed to providing the highest levels of safety and product efficacy, along with the most innovative technology in the market. Bellus Medical was founded in 2012 and is headquartered in Addison, Texas.
To learn more about Bellus Medical, visit http://www.BellusMedical.com.