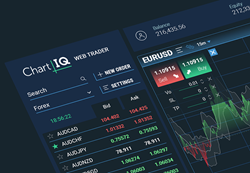 The new user interface was redesigned around two core concepts the FX market demanded: product differentiation and a more user-friendly experience.
Charlottesville, VA (PRWEB) February 21, 2017
ChartIQ, a leader in HTML5 charting solutions for capital markets and online trading, announces a new product update for their proprietary WebTrader for MT4. The update features an entirely new user interface that offers an unprecedented user experience for the Forex (FX) marketplace—one that both traders and brokerages see as beneficial. The public release that is now available, comes after an overcrowded beta version (open to early adopters and industry professionals only) closed Feb 6th, 2017.
The product update offers a vast array of tools, chart types, and studies combined with a cutting-edge interface that visualizes trade execution in a clear way. The result is the promise of faster decision making for traders, organized trade data, and mobile trading options. This newly revamped web trading platform improves engagement and retention rates for brokerages and individual traders around the globe.
"The new user interface was redesigned around two core concepts the FX market demanded: product differentiation and a more user-friendly experience. We've focused on designing a front end that meets the end user's needs and a back end that enables seamless integration with the broker's existing technology stack," says Rob Schmidt, ChartIQ's Director of FX Solutions. ChartIQ's WebTrader plugin architecture ensures that integrations are seamless and timely, inevitably saving clients time and money. The HTML5 front end also allows for functionality across all operating systems and devices, ensuring traders will have access anytime, anywhere.
FX brokerages have been searching for ways to break away from the oversaturated market and competition.The most innovative brokerages however, have realized that the front end user interface requires significant updates and have turned to advanced data visualization and charting companies like ChartIQ. With ChartIQ, brokerages can easily take control of their own platform's look and feel, adhere to brand standards, and quickly enhance the trader's experience across all devices—mobile, web and desktop. WebTrader for MT4 is available as a white-labeled HTML5 web trading platform. To learn more please visit ChartIQ.com.
About ChartIQ: ChartIQ is the financial community's infrastructure tool of choice, trusted by capital market leaders and industry professionals. With its advanced HTML5 toolkit, ChartIQ helps investment banks, brokerages, trading platforms, and financial portals improve their front-end charting technology by providing modern charting and data visualization solutions. ChartIQ has a rapidly growing list of global customers including market leaders like Fidessa, Nasdaq and eToro - to name a few - and enhances the user experience for millions of traders around the globe. When risk is high and financial technology teams have to get it absolutely right, ChartIQ is their vendor of choice. ChartIQ is based out of Charlottesville, VA with offices in New York, London, and Cyprus, and offers US-based customer support.