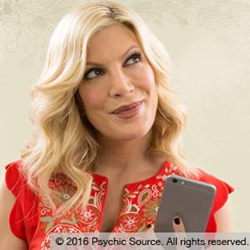 We look forward to another wonderful year with Ms. Spelling, as she continues to benefit from psychic readings and shares her experiences with fans and admirers!
Langhorne, PA (PRWEB) February 20, 2017
Psychic Source, the most respected psychic service since 1989, is thrilled to announce that its successful partnership with actress and beloved MOMpreneur Tori Spelling will extend into 2018.
As Psychic Source spokeswoman, Ms. Spelling has enjoyed regular readings with expert psychic Advisors, sharing her experiences on her blog and at Psychics sTORI. "I have consulted Psychic Source Advisors at important times during the last year, and the readings they gave me were helpful, supportive and insightful," Ms. Spelling said.
Maryanne Fiedler, the Marketing Director at Psychic Source, is looking forward to another productive year in the partnership with Ms. Spelling. "So many people look to her as a role model," said Ms. Fiedler, "and when they hear about how she benefits from psychic readings in her life, it opens them up to similar experiences."
For example, in one blog post Ms. Spelling wrote about a particularly meaningful reading with Psychic Bridgette: "My reading was not only inspiring but empowering. She was very specific about my future career paths and opportunities. She gave me the confidence boost I needed to trust myself and to go for my goals and to finally make them a reality in 2016."
Psychic Source and Ms. Spelling expect this to be another year of mutual benefit and inspiration.
More information is available at PsychicSource.com. For media inquiries contact Ms. Fiedler at Maryanne(at)psychicsource(dot)com or (215) 953-8568.
*****
About Psychic Source:
Founded in 1989, Psychic Source is the nation's oldest and most respected psychic service. Psychic Source's advisors are experts in astrology, horoscopes, numerology, tarot cards, clairvoyant readings, and many other psychic disciplines. Psychic Source believes in its community of authentic Psychics and stands behind the authentic psychic readings they deliver to clients. Visit them online at http://www.psychicsource.com.
About Tori Spelling:
Tori Spelling is a versatile actress, producer, author, designer, and entrepreneur, perhaps best known for her starring role as Donna Martin on the hit television series "Beverly Hills, 90210" (10 seasons) and her New York Times best-selling memoirs. Spelling's acting and producing careers span television, film, and theater, including most recently Lifetime's docu-series "True Tori" and several series produced with her husband Dean McDermott. Topping off her acting and writing accomplishments is Spelling's design talent, showcased in the 2012 party advice book CelebraTORI, in her clothing line, "Little Maven," for infants and toddlers, and in her DIY fashion jewelry line, "Styled by Tori Spelling." Spelling writes about her interests and experiences juggling life, love, style and family in her online magazine and community "ediTORIal by Tori Spelling" (http://www.ToriSpelling.com).
For more information, contact:
Maryanne Fiedler, Marketing Director
maryanne(at)psychicsource(dot)com
215-953-8568