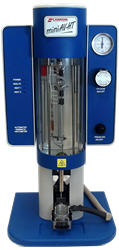 State College, PA (PRWEB) February 16, 2017
CANNON Instrument Company expanded its miniAV® viscometer family to include its new miniAV®-HT viscometer. The miniAV®-HT was developed specifically for asphalt viscosity testing at 60 °C and 135 °C with precision meeting requirements for AASHTO T201 and ASTM D2170. Developed on CANNON's well tested miniAV® platform, the miniAV®-HT features a higher temperature range for laboratories seeking to automate kinematic viscosity testing of asphalt binders, cements and cutbacks. The miniAV®-HT comes standard with an adjustable sample preheater, dual solvent input and a heated waste drain line. Like other instruments in the CANNON miniAV® viscometer family, the compact miniAV®-HT meets ASTM D445 precision requirements for reproducibility and repeatability.
About CANNON Instrument Company
CANNON Instrument Company is a global leader in viscosity related products and services since 1938. CANNON offers a broad spectrum of high-quality, viscosity-related products and services including glass viscometers, viscosity standards, automated and semi-automated viscometers, and constant temperature baths. In addition, CANNON offers a variety of instruments for related physical property testing including densitometers, flash point testers, titrators, distillation testers, colorimeters, refractometers, carbon residue testers, vapor pressure testers, pour/cloud point testers, softening point testers, sulfur analyzers, plugging point testers and aniline point testers. To learn more visit http://cannoninstrument.com.