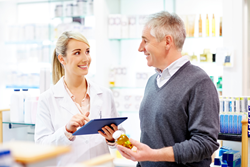 The launch of Catalyst's AdhereNet™ improves quality, efficiency, and safety across the medication delivery ecosystem; patients, pharmacists, and health care professionals.
Kelowna, BC (PRWEB) February 16, 2017
Catalyst Healthcare has announced the launch of their AdhereNet™ medication management pharmacy software. AdhereNet™ builds on years of pharmacy software development, and has culminated in an end-to-end solution designed to improve patient medication adherence. Catalyst's AdhereNet™ platform will bring transformative change to the serious issue of medication non-adherence, estimated by the New England Healthcare Institute to cost $290 billion per year in the USA alone.
"The launch of Catalyst's AdhereNet™ improves quality, efficiency, and safety across the medication delivery ecosystem; patients, pharmacists, and healthcare professionals. Further, the wide-scale availability of consumer-based adherence tools will lead to better health outcomes and decreased costs," said Catalyst CEO & founder, Shane Bishop. "AdhereNet™ can be used by any pharmacy and is essential for all pharmacists concerned about adherence. AdhereNet™ is the realization of our vision, which is to give everyone, regardless of care setting, access to integrated adherence solutions that lower costs and improve outcomes." 
After a decade of embedding high-quality, cloud-based software into the pharmacy value chain, Catalyst had key findings that motivated the development of AdhereNet™, including that 50% of patients are not taking medication as prescribed, pharmacists have lost 20-30% of revenue due to lack of monitoring and inability to intervene, and that every $1 spent on pharmacists' patient care services realized healthcare savings of over $16. These staggering facts have driven Catalyst to deliver an integrated and scalable solution. With lives on the line and billions of dollars at stake, this is a solution with global scope, but reaches down to your own family and neighbours.
The Catalyst AdhereNet™ solution brings down the cost of packaging for pharmacies by connecting them with fully automated central fills, and resolves adherence issues at the patient level with oneMAR® electronic Medication Administration Record (eMAR) for long-term care, MyMedTimes™ smart app and spencer™ medication dispenser for patients at home. As a fully scalable medication management solution, AdhereNet™ works effectively with one patient, or with tens of thousands of patients.
At the forefront of innovation, Catalyst's products track the entire medication management process. AdhereNet's interactive dashboards allow the pharmacy to monitor, intervene and track outcomes, and with information on what has been taken and when, the pharmacy can proactively review a report of vitals married up to medications that were taken, giving insight into not only adherence but also effectiveness. The care-giving circle is complete, with the highest chance of total adherence.
"Medication adherence is a critical issue for patients, pharmacies, insurance providers and the healthcare industry in general," said Mr. Bishop. "According to the American Pharmacists Association Foundation, non-adherence accounts for 10% to 25% of hospital and nursing home admissions annually. In order to truly initiate significant, lasting change, pharmacists need access to integrated adherence tools. AdhereNet™ is the platform to make this happen." 
Catalyst has teamed up with a Fortune 5 healthcare company to deliver a full service adherence offering: AdhereNet™ embedded on best-in-class pharmacy automation. Visit the site to learn more about Catalyst's commitment to improving medication adherence.
About Catalyst
Catalyst provides high-quality software to pharmacists, nurses and patients to ensure that people receive medications safely and efficiently. Our determination to accelerate medication adherence is based on a history of serving long-term care and retail patients. For more information, visit http://www.catalystrms.com.