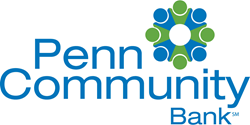 DOYLESTOWN, Pa. (PRWEB) February 15, 2017
Penn Community Bank is proud to introduce a new program to bring no-cost financial literacy programs and convenient banking services to local businesses and schools while supporting Bucks County nonprofit organizations.
Workplace Connections is a bank-at-work program that brings more benefits, including free financial educational workshops, to area employers and their employees. In addition, for every employee who signs up through Workplace Connections, Penn Community Bank will donate $10 to one of five area nonprofits: the Bucks County Opportunity Council, Bucks County SPCA, Central Bucks Family YMCA, Family Service Association of Bucks County, or Habitat for Humanity of Bucks County. This is just one more way that Penn Community Bank demonstrates its commitment to serving the local community.
"One of our key initiatives here at Penn Community Bank is to foster and strengthen partnerships with local businesses and community organizations," said President and CEO Jeane M. Coyle. "Workplace Connections enables us to offer great benefits to the employers who are driving our local economy while also supporting the nonprofit organizations that strengthen our communities."
As part of Workplace Connections, Penn Community Bank's financial experts will visit area employers to provide on-site financial literacy workshops and promote direct deposit enrollment, which can help reduce payroll administration costs. The bank will provide custom promotional materials and an orientation for new employees. Employers that participate in Workplace Connections also will be eligible for the Small Business Spotlight, which highlights a participating local business at Penn Community Bank's branch offices.
Anyone who opens a new free checking account as part of Workplace Connections will get a cash bonus deposited into the account. Paychecks can be deposited directly and enrollment can be completed on-site at work – no need to make a special trip to the bank.
"As a local, independent mutual financial institution, Penn Community Bank exists to serve our community," said Jacob A. Iampietro, Senior Vice President and Director of Retail Banking. "We know that giving back matters. Workplace Connections is a way for us to help workers increase their financial wellness while also supporting the missions of the nonprofits that focus on making Bucks County a great place to live, work and play."
To learn more and to find out how the program can benefit your workplace, contact WorkplaceConnections(at)penncommunitybank(dot)com.
About Penn Community Bank: Penn Community Bank holds more than $1.8 billion in assets and employs more than 300 people at 22 bank branches and two administrative centers throughout Bucks County, Pennsylvania. As an independent, mutual financial institution, Penn Community Bank is not publicly traded and operates with its long-term mission in mind: to help businesses grow and prosper, to support individuals and families throughout their lifetimes, to strengthen the local economy, and to partner with local organizations to act as a catalyst for positive growth in every market it serves.
# # #