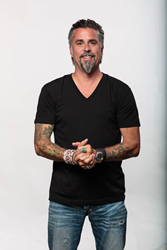 Dallas, TX (PRWEB) February 20, 2017
Richard Rawlings to Keynote PRSM2017 National Conference Keynote Speaker Richard Rawlings – Founder of Gas Monkey Garage to Get FAST N' LOUD at PRSM2017 Conference
The Professional Retail Store Maintenance Association (PRSM), the authority on retail, multi-site facilities management, has announced that Richard Rawlings, founder of Gas Monkey Garage which is featured on the wildly popular Fast N' Loud on the Discovery Channel, will be the keynote speaker for theundefined [ PRSM2017 National Conference __title__ PRSM2017 National Conference], April 18 – 20, 2017 in Grapevine, TX.
In 2002, Rawlings launched Gas Monkey Garage, a world-renowned hot rod shop that has produced and shipped cars for people around the world. Rawlings, a native of Fort Worth, TX, has a passion for cars that developed at an early age while building cars and attending car shows with his Dad. A veteran of transcontinental road rallies, Richard has competed in the Gumball 3000 and won the Bullrun Rally — twice.
He will tap into his entrepreneurial spirit and career to inspire retail facilities managers to take on challenges, seek new opportunities and use discipline and persistence to pursue their dreams.
Bill Yanek, PRSM CEO is excited to have Rawlings as the keynote speaker, "Our members have to move fast to maintain retail facilities, and I believe Richard will provide a unique perspective on how you can move fast, still deliver quality work, and most importantly exceed expectations," said Yanek.
Rawlings' message kicks off two action packed days that provide retail facilities leaders new information and unique tools to solve problems, opportunities to meet and network with retail industry leaders and suppliers from around the world, and the inspiration to tackle any obstacle.
Attendees will go to learn and go home a star as they attend educational sessions, connect with suppliers in the exhibit hall, share solutions and develop their own creative ways to manage thousands of retail stores across the U.S., Canada and the world.
###
About the Professional Retail Store Maintenance® Association (PRSM)
PRSM Association, the authority on Retail and Multi-site Facilities Management, is the leading membership organization for retail facilities and supplier professionals. PRSM empowers the Retail Industry facilities management with best practices, benchmarking, education, discussion forums and trusted partnerships. Chartered in 1995, and with almost 1,000 member companies, the PRSM community values are founded on a spirit of innovation, resourcefulness, the quest for knowledge and ethical business relationships. Members depend on PRSM to help them achieve greater success and a competitive advantage through quality programs and resources.