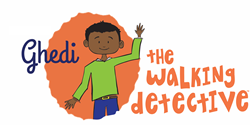 The purpose of the Walking Detective™ is to empower kids like Ghedi to speak out for safe places to walk, bike and play, says Andrea Clark, creator of Ghedi.
Kansas City,Mo (PRWEB) March 13, 2017
KC Healthy Kids has introduced a new character and workbook to help kids speak out for healthy communities.
The Walking Detective™ is a toolkit featuring Ghedi (GEH-dee), a fictional ten-year-old Somali refugee who makes his home in Kansas City. His name means "a traveller" or "born during travel" in Somalian and that's what he does best. He walks and rides his bike to school everyday.
He is on a mission to teach kids about walking, biking safely and to speak out for changes to improve active transportation.
With the help of Ghedi's workbook, teachers can assist kids to conduct walking audits to find clues and collect evidence to show how walkable or bikeable their communities are.
The kids' workbook includes a clue checklist so they know what to look for, space to take notes and draw pictures of they see around their built environment, a scoring guide, instructions for creating a case file and a customizable letter to lawmakers.
A scoring guide helps them evaluate sidewalks, crosswalks, traffic, safety and amenities like parks and benches. They take photos, draw pictures and make notes as evidence.
With these materials kids can build a case report to show city officials what things are working well and what things need to be improved.
The Leader's Guide is full of facts and stats, tips and additional resources to help teachers and community leaders create a safe, effective and authentic learning experience for kids in grades 3-8.
Ghedi's character was created by Andrea Clark. It is based on Somali refugee children she met through her work in Refugee and Immigration Services at Catholic Charities of Northeast Kansas. She brought the idea to KC Healthy Kids last summer.
"When I volunteered with refugee families, I saw the difficulties they faced with transportation on a daily basis. First they have to learn English to get a driver's license. Then they have to make enough money to afford a car. And their neighborhood is probably not very walkable, which is especially important for kids trying to get to school. The purpose of the Walking Detective™ is to empower kids like Ghedi to speak out for safe places to walk, bike and play."
Ghedi and The Walking Detective™ materials debuted at Champions for Health Youth Summit on March 2. There, almost 200 kids gathered where they learned to speak out for healthier food in schools, walkable communities, urban farms and gardens and more!
Download The Walking Detective™ workbook for free.
###
About KC Healthy Kids
KC Healthy Kids rallies the people in our communities to improve access to affordable fresh food and safe places to walk and play. When our neighborhoods support healthy habits, we are less likely to suffer from obesity, which is linked to Type 2 diabetes, heart disease, and poor mental health. To make a lasting impact, we shape policies that improve our food system and physical surroundings and, ultimately, the places where we live, work, learn, and play.
Visit us at http://www.kchealthykids.org.