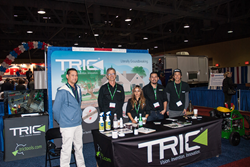 Guys really liked the new pump and I enjoyed sharing how it would help their equipment work more effectively.
Alameda, CA (PRWEB) February 17, 2017
California Pipe Bursting Manufacturer TRIC Tools enjoys supporting its customers. One of the organizations that TRIC works closely with is the California Plumbing, Heating and Cooling Contractors (PHCC). The PHCC Association gives Heating, Ventilation, Air Conditioning, & Refrigeration (HVACR) contractors the resources they need to be the best and to continually improve their services. While at these events, TRIC educates itself to the challenges these contractors face.
TRIC launched its busy 2017 trade show season with a new booth, updated literature, and new trenchless technology products for the Plumbing Industry. Marketing Director and Product Support Specialist John Rafferty worked closely with Suzan Chin of Creative Raven in November and December to create a new exhibit space, focusing on TRIC's place in the pipe bursting industry. TRIC debuted its new booth at the 42nd Annual Greater Los Angeles Area PHCC Flow Expo in Long Beach. Representing TRIC in Long Beach were John Rafferty, Assistant Manager Laura Servin, Machinist Greg Lee and Warehouse Manager Chris Nodhal. At the show, TRIC unveiled its new compact, ergonomically designed 14HP/6,000 psi Hydraulic Pump, which drew crowds at the booth. "Guys really liked the new pump, and I enjoyed sharing how it would help their equipment work more effectively," said Mr. Nodhal. TRIC also showcased its X30 lateral system alongside its M50 municipal pipebursting system. Approximately 4,000 people attended the one-day event, which was held at the Long Beach Convention Center from 9am to 4pm on Saturday February 4th.
On Friday evening, John, Greg, and Chris enjoyed the pre-show VIP dinner at the nearby Westin Hotel. California PHCC President Gino Caccia welcomed guests to the event, and PHCC Director Julio Jaime's nephew Adam Gomez provided entertainment. Adam sang a broad selection of pop songs while accompanying himself on acoustic guitar. John Rafferty later joined Adam for one number, singing and playing harmonica.
During the show, PHCC Directors Roger Lighthart and Julio Jaime came by the TRIC booth. Roger and Julio have been important directors and mentors to the LA PHCC training programs for more than two decades. The Plumbing-Heating-Cooling Contractors Association has been helping PHCC contractors reach their goals and combine their strengths for over 120 years. PHCC of California delivers resources and training that advance the PHCC industry as a science and a profession. For more information about a local PHCC association or how to become more involved in the industry, refer to the national PHCC website at: http://www.phccweb.org or refer to the Greater Los Angeles Area website at: http://www.phccglaa.org.
TRIC is now looking forward to the Indianapolis Water & Wastewater, Equipment, Treatment and Transport (WWETT) show, where it will roll out the rest of its technology. TRIC's booth (1533) will be a 20' x 20' booth this year where TRIC will have its X30, M50 and M100 pipe bursting machines on display. "I've been working late in the evenings and on weekends finishing the Marketing materials to showcase our place in the industry," said Mr. Rafferty. TRIC will be spotlighted on a number of new LED displays throughout the Indianapolis Convention Center. "I'm excited to see our new booth and expanded presence after two decades at the Pumper-Cleaner/WWETT show," Rafferty concluded.
TRIC Tools, Inc. is an infrastructure and environmental solutions company that provides proprietary technology, tools and services for trenchless rehabilitation and replacement of sewer, water, gas and other difficult to access underground pipes. TRIC holds five U.S. and International patents for its device and method of trenchless pipe bursting.
In 1997, TRIC established the standards and created the industry for lateral replacement (home sewer line) using its pipe bursting technology. TRIC continues to re-engineer its technology for new markets, expanding upon its domestic sewer lateral tools with the introduction of innovative solutions for mainline sewer, drinking water and gas distribution pipelines. To learn more about TRIC or the trenchless industry please call 888-883-8742 or go to their website at http://www.trictools.com.