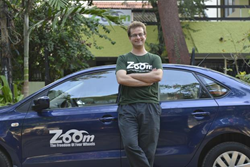 "My goal in mentoring the start-ups is to help them avoid the many mistakes I made as an entrepreneur." - David Back
Mumbai, India (PRWEB) February 15, 2017
Idein Ventures is a seed-stage VC fund with offices in the United States, United Arab Emirates, Mumbai, and Hyderabad. It was co-founded by Rajeshwar Prasad, Mahesh Vellaboyina, and Ashwin Srivastava. Prasad founded two publicly traded companies in India, and serves as the CEO of RAK Holdings; he is also Ex-Officio Cabinet Minister and Special Advisor to the Prime Minister of Guinea Bissau. Vellaboyina has deep experience in technology, as well as experience in investment banking, private equity, and venture capital in the United States and India; he studied computer science at Bangalore University. Srivastava is a serial entrepreneur with a history of building successful global companies in industries ranging from electronics, education, e-commerce, and construction; he holds dual degrees from IIT-Bombay.
David Back co-founded the first company in India to offer "self-drive" car rental, with no chauffeur. Zoomcar launched in Bangalore exactly 4 years ago yesterday, on February 14, 2013. When David left India almost 3 years later, Zoom had grown from 7 cars to almost 1,500 vehicles in 6 cities. It continues to expand; and now has about 2,500 vehicles in 17 Indian cities. Zoom has retained a dominant position, continuously controlling 70-80% of the legally-operating self-drive car rental market in India. It recently added a peer-to-peer "Airbnb for cars" similar to Turo or Getaround in the US. Zoom is a world-leader in car rental technology: Zoomcar's app on the Android Playstore has more downloads and reviews, and a higher rating than the global apps for Hertz, Avis, Enterprise, Zipcar, Budget, Dollar, Thrifty, Turo, Getaround, and Myles (India's distant-2nd biggest car rental company) combined. Zoom's customers have taken almost 1 million trips, and driven a total of about 150 million kilometers – enough to drive every paved road in India about 45 times, or enough to drive to the Moon and back about 200 times.
Zoomcar's investors include Ford Motor Company, Sequoia Capital, Nokia Growth Partners, FundersClub, Empire Angels, Former Infosys CFO Mohandas Pai, British politician and businesswoman Lady Barbara Judge, Former US Treasury Secretary Lawrence Summers, as well as professors at Wharton, Harvard Law School, and Cambridge University's Judge School of Business.
David has worked as a consultant at McKinsey, as an investment manager at Goldman Sachs, and as a research analyst at the Kauffman Foundation. He is currently an Expert Advisor with AlphaSights, and a Senior Sector Advisor for one of Zoomcar's early investors, Athene Capital. Back sits on the board of advisors of several start-ups, including AptAmigo in Chicago and Impact Guru in Mumbai. David speaks about entrepreneurship, globalization, and doing business in India with the London Speakers Bureau.
Ashwin Srivastava said, "Very few people have as deep understanding of the startup ecosystem of India plus Silicon Valley. David has been one of the pioneers behind bringing the current Indian startup scene to the global map, and we are sure our association with him will help set new precedents in the Indian and global venture capital industry."
Idein Ventures has invested in a number of start-ups in India and the UAE. These include: Infurnia, a Bangalore-based start-up which enables consumers to visualize their furniture in augmented-reality before making a purchase; Qriyo, a Jaipur-based company that provides home tutors in fields as diverse as cooking, yoga, chess, karate, and CBSE/ICSE; and ZoEasy, a UAE-based venture matching immigrant workers with safe and secure jobs, while helping employers and employees navigate laws and regulations. Idein has support from royal families and large investment houses in the Gulf States.
David Back commented, "There is tremendous opportunity in Indian start-ups right now. Idein has a strong mandate to increase its venture capital presence in India and the UAE; and Idein's backers provide a network to help its ventures become global enterprises. It is also indispensible to have talented and experienced individuals on the ground in India, and Idein definitely has that in Ashwin, Mahesh, and their team. My goal in mentoring the start-ups is to help them avoid the many mistakes I made as an entrepreneur."
David will provide advice to Idein and to its portfolio companies on: strategy, growth, hiring/compensation, legal structure, customer acquisition, monetization approach, fundraising, and other matters.