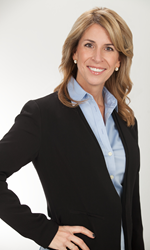 "I look forward to growing this team and bringing it to its full potential." - Christy Blagg, Senior Escrow Officer & Branch Manager, KV Lone Star Division
Dallas, TX (PRWEB) February 16, 2017
Kensington Vanguard National Land Services (KV), one of the largest independent, full-service national title insurance agencies in the country, is pleased to announce the hiring of new Sr. Escrow Officer and Branch Manager for its Lone Star Division, Christy Blagg.
In her new position with KV, Blagg will help build the brand and aims to be a leader in the industry by building a strong team and empowering those around her. She believes that good partnership, respect, team building, training, follow-up and appreciating feedback are all crucial to the position and the success of any professional. Having made it to this point by following closely to these values, Blagg will apply the same work ethic at KV.
"We couldn't be happier to announce that Christy Blagg has joined Kensington Vanguard's Lone Star Division," said KV Executive Vice President Zach Sams. "Christy has excelled in the title space for years in DFW. Her 'can-do' attitude, experience and industry knowledge separate her from the competition."
Blagg's 12 years of experience in the business will be valuable to the Kensington Vanguard Lone Star Division. Even before her career started, she was always an encourager, energetic, self-motivated and independent, she said. Having carried these traits into her work as an adult has allowed her to solidify strong connections with other professionals and clients. No matter the skills she's acquired throughout her career, she will never stop learning, she said.
"You learn something new in this industry every day," Blagg said. "So, if you're not learning in this business, you're not growing."
She is thrilled to be working for a company that is very focused on exceeding employee expectations, which, in her words, "prompts extraordinary customer service." The sense of accomplishment she feels when witnessing a closing from beginning to end is the strongest pull toward the industry for her.
"I look forward to growing this team and bringing it to its full potential," Blagg said.