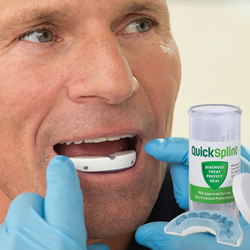 Dental products in the Clinicians Report® Buying Guide, the annual guide of the best evaluated dental products by CR Foundation® have been rigorously evaluated and tested.
San Diego, Calif. (PRWEB) February 16, 2017
Orofacial Therapeutics, LP announced today that its premier product, QuickSplint®, is featured in the Clinicians Report® Buying Guide, the annual guide of the best evaluated dental products by CR Foundation®. Dental products in the CR Buying Guide have been rigorously evaluated and tested with competitive products and are among the highest-rated products of the year.
QuickSplint is a temporary occlusal splint designed for quick fabrication and short-term use as an anterior bite plane and night guard. It is the only dental splint designed specifically for short-term use of up to 2 - 4 weeks.
CR Foundation is a non-profit education and research organization which produces objective product testing and evaluations to help dentists and dental clinicians make educated product purchases. Products evaluated by CR Foundation are reported in Gordon J. Christensen Clinicians Report and are selected based on merit from hundreds of products. The organization uses a unique volunteer structure to conduct its work; more than 400 clinical field evaluators are located throughout the world and 40 full-time employees work at the institute. CR is the only independent dental product testing organization with funding only from dentists.
QuickSplint was initially evaluated by the CR Foundation in 2016. Its evaluation report was printed in the March 2016 edition of Gordon J. Christensen Clinicians Report with 82% of CR evaluators rating QuickSplint excellent or good and worthy of a trial by dental colleagues.
QuickSplint gives dentists the ability to offer their patients an immediate solution for pain and protection including:

Same-day treatment for acute jaw pain, orofacial pain
Diagnostic aid for bruxism
Post-op healing aid to help jaw muscles relax and recover after dental treatment
Post-op temporary protection for anterior provisional veneers, newly placed implants, periodontal surgery, endodontically treated teeth, and other new dental restorations
Anterior bite-plane/Deprogrammer
Transitional or emergency occlusal appliance
To learn more about QuickSplint and its uses for general dentistry, cosmetic and restorative dentistry, periodontics, endodontics, oral surgery, dental implant surgery, and more visit the QuickSplint website at QuickSplint.com.
About Orofacial Therapeutics, LP
Founded by orofacial pain expert, Bradley Eli DDS, MS, Orofacial Therapeutics, LP is a San Diego-based medical device company that develops a variety of aids for dentistry and orofacial pain. Dr. Eli and the company hold multiple patents in the fields of both sleep and pain. The company's popular aid, QuickSplint, has been successfully utilized with patients for more than ten years and became available to dentists and dental specialists in 2011. QuickSplint is FDA 510k cleared and is made in the USA. The company's products are available for sale for use by licensed dental or medical professionals. The company accepts orders by phone, fax, online, and through a select number of dental labs and dealers. For more information, visit QuickSplint.com or see QuickSplint at booth 2347 at the upcoming Chicago Midwinter Meeting, Feb 23-25, 2017.
QuickSplint is a registered trademark of QuickSplint LLC.
Featured video courtesy of Lee Ann Brady, DMD. ©2016 Lee Ann Brady LLC; all rights reserved. Dr. Brady is the Director of Education for Clinical Mastery, a series of hands-on education programs focused on occlusion and restorative dentistry and owner of Desert Sun Smiles Dental Care, a private restorative practice in Glendale, Arizona.
###