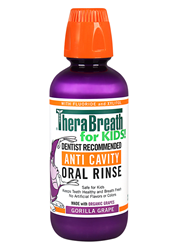 (PRWEB) February 21, 2017
Dr. Harold Katz, creator of the bad breath fighting TheraBreath Oral Rinse, is excited to announce the launch of a new oral rinse developed just for kids.
"TheraBreath has been helping adults who struggle with bad breath for years. Our oral rinses freshen breath without the use of problematic ingredients found in most mass-produced mouthwashes," said Dr. Katz. "We really felt that it was time for kids to have access to the same level of oral rinse — one that tastes great, fights cavities, and is free of artificial dyes and flavors."
The result is TheraBreath for Kids! Anti Cavity Oral Rinse. Made from organically grown grapes and sweetened with Xylitol, the children's oral rinse is made only in small batches, allowing it to contain fewer preservatives and no dyes or artificial additives.
The children's anti cavity oral rinse, available online at http://www.TheraBreath.com and at Wal-Mart stores nationwide, is perfectly timed to align with Children's Oral Health Month.
The American Dental Association (ADA) identifies February as a month to focus on children's oral health and ways to reduce cavities and improve the condition of children's teeth. This year the organization is asking parents to focus on encouraging their children to consume more tap water and make good oral hygiene choices.
About Dr. Katz, Founder of TheraBreath®
Dr. Harold Katz is the recognized expert in the fields of bad breath, dry mouth, and tonsil stones. Known as the "Bad Breath Guru" from his numerous appearances on shows like "The View" and the CBS "Early Show," he has helped millions of people around the world eliminate their bad breath problems. He is a graduate of UCLA and the UCLA School of Dentistry and has a degree in Bacteriology, also from UCLA.
About TheraBreath®
Since the introduction of TheraBreath® products in 1994, Dr. Katz has helped millions of people in 98 countries fight bad breath through the use of the TheraBreath® System formulas, which help maintain truly fresh breath and allow users to gain newfound self-confidence. TheraBreath® is the world's top premium oral care system and has offices in Los Angeles, California. To learn more, visit http://www.therabreath.com.