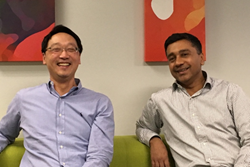 Santa Clara, CA (PRWEB) February 15, 2017
Somnoware, a leading provider of digital health technology, announces key expansion of its executive leadership team. Specifically, Somnoware has hired Dr. Raj Misra as Chief Data Scientist and Vice President of Marketing, and Eugene Lee as Chief Financial Officer. Raj is a visionary business leader and data scientist who has been hired to spearhead the development of a strong Somnoware brand, rapid market expansion, and development of its machine learning capability. Eugene is an accounting and finance professional who is expected to provide critical support to Somnoware's accelerated growth.
As the leading sleep health management software provider in the industry, Somnoware is generating strong interest among sleep physicians. The company expects this interest to grow further resulting in strong growth opportunities in the years ahead. As sleep testing labs and healthcare systems continue to allocate higher percentages of their budgets to improve sleep study and patient management, Somnoware is investing in its executive bench.
"Our growth as the leader in sleep health management has been explosive over the past year," says Subath Kamalasan, CEO of Somnoware. "With Raj and Eugene in their new roles, we can further accelerate our demand generation and machine learning efforts, and more efficiently manage our financial operations. This will enable us to sustain and expand our rapid growth."
About Raj Misra
Dr. Raj Misra is a leading expert in digital marketing and data science. Over the past 15 years, he has driven important marketing and data science initiatives for some of the world's leading entities including Microsoft, Pearson, Walmart, T-Mobile, and United Technologies. In addition to degrees from the University of Texas at Austin and Indian Institute of Technology, Raj holds a data mining patent and over 20 peer-reviewed articles. As Chief Data Scientist and Vice President of Marketing, Raj is responsible for brand marketing, demand generation, and machine learning at Somnoware.
About Eugene Lee
Eugene Lee is a metrics-driven and strategic financial expert with more than a decade of experience in financial operations. He has leveraged his analytical skills to manage financial operations and revenue forecasts. He began his career at PwC and has also worked at several other innovative companies including Meraki, CipherMax, and SS8 Networks. Eugene holds bachelors and masters degrees in business from the University of California, Berkeley. As Chief Financial Officer, Eugene is responsible for managing finance and administration for Somnoware.
As the industry's leading sleep health management platform, Somnoware is currently used by one in five sleep physicians in the United States. It is available in two versions—Somnoware for Physicians and Somnoware for Sleep Centers. Physicians get instant access to sleep test data, e-signature capability, one-click DME ordering, CPAP compliance data, and the ability to conduct end-to-end patient care management. Sleep centers can automate their complete workflow including scheduling at multiple centers, inventory management, automated reporting, therapy ordering, and AASM accreditation.
To learn more about Somnoware, please contact Raj Misra at media(at)Somnoware(dot)com.
About Somnoware
Somnoware is transforming sleep health management by accelerating diagnostics and increasing therapy adherence. It automates sleep testing processes, provides actionable data and predictive insights to physicians, and drives patient engagement. The company's customer base includes leading health systems, independent sleep centers, and sleep services companies. Somnoware is headquartered in Santa Clara, California. For more information, please visit http://www.somnoware.com or follow us on twitter @somnoware.
https://www.somnoware.com/blog/somnoware-expands-executive-leadership-pr