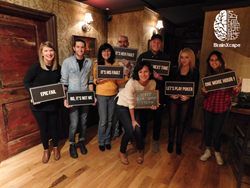 If you are looking for a fun activity with your friends, a unique date idea, a cool birthday party, or a team-building exercise with colleagues. BrainXcape is a great idea. We did the hotel and it was awesome! We have to go back to try the old prison!
New York, NY (PRWEB) February 18, 2017
BrainXcape's real life escape rooms features 2 different private escape experiences; 'The Haunted Hotel', and 'The Old Prison'. Both escape rooms have art and design curated by set designers that also worked on the off-Broadway show, 'Sleep No More'. Each of BrainXcape's private escape rooms are for groups of 2 to 8 players.
BrainXcape escape rooms are perfect for groups of friends, families or for a corporate team-building activity in NYC. Our detailed rooms provide for a fun, immersive experience for the whole team, regardless of which room you choose to escape from.
About BrainXcape
Established in 2016, BrainXcape is NYC's most immersive escape room game. With incredible attention to detail in its art and design, BrainXcape offers a slightly creepy, slightly challenging, yet incredibly fun experience for private groups of 2 to 8 players per team. BrainXcape's real life escape rooms are located at 48 W 20th Street, New York, NY, 10011 in Manhattan's Flatiron district.