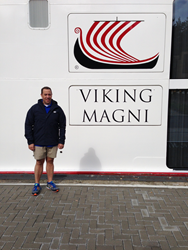 I travel the world myself and experience the products I sell firsthand so I can help my clients find the right fit while at the same time building relationships with the travel partners I work with to bring my clients the best value
Atlanta, GA (PRWEB) February 18, 2017
Travel Agent magazine, a top travel industry publication, has named Michael Consoli of Cruise Planners in Roswell as a Top 25 All Star winner for 2016. Consoli was one of only a handful of travel professionals honored as an "All Star" which highlights the Best of the Best in the travel industry.
Consoli is indeed a top producer; as a franchise owner at Cruise Planners as he has repeatedly earned recognition as a top producing agent for Celebrity Cruises, Royal Caribbean International, Oceania Cruises, Azamara Club Cruises, Crystal Cruises and Regent Seven Seas Cruises. This past year he was also the first-ever travel agent to be honored by Viking Cruises as its Global Top Producing agent.
Consoli makes a special effort to get to know his clients personally, traveling with his top clients once or twice a year while focusing on group business. This leads to strong relationships on both the client and partner side. He knows his niche, and now focuses on the next generation of travelers – some of the children of his clients – are now booking travel through him as well.
"I travel the world myself and experience the products I sell firsthand so I can help my clients find the right fit while at the same time building relationships with the travel partners I work with to bring my clients the best value," Consoli said. "I am proud to be recognized for the hard work and the loyalty I have built with my clients that keep them coming back."
Michael is constantly looking for ways to make planning travel easier and more enjoyable for his clients. Michelle Fee CEO and co-founder of Cruise Planners, an American Express Travel Representative said: "Michael is a great example of how someone with strong people skills and a passion for travel can create wonderful travel experiences for their clients, build a successful business and receive top accolades from his clients AND his travel partners."
One of Michaels clients explained it another way: "Michael is the most caring, proactive travel agent I have ever used. He introduces us to great values, I trust his opinion implicitly and he has never let me down."
Michael is a certified CLIA Elite Cruise Counselor and a Luxury Cruise Specialist that specializes in individual and group cruises. He enjoys working with his clients to customize their trips to their particular needs while finding them amazing deals they can brag about to their friends and family. Michael can be contacted at 770-650-766 or through his website http://www.planmycruise.com
About Cruise Planners
Cruise Planners, an independently owned and operated home-based franchise, is part of the American Express Travel Representative network and the nation's largest home-based travel agent franchise company in the travel industry. Cruise Planners' travel professionals independently book amazing vacation and travel experiences for their clients around the world.