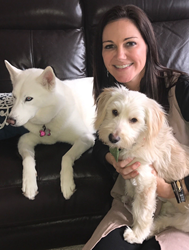 I opened Pet Wants Houston Inner Loop because I wanted to offer pet parents the opportunity to see their fur-babies enjoy life as much as mine has since switching to Pet Wants.
Houston, TX (PRWEB) February 16, 2017
Jaime Graham has always had a passion for pets and, throughout her career in business, she kept an eye out for the right opportunity to serve animals and pet families in a new way. Now she's excited to announce she's found that opportunity and has just opened a new local pet food company, Pet Wants Houston Inner Loop.
Pet Wants' carefully developed proprietary pet food is slow-cooked in small batches with fresh, all-natural ingredients once per month, so every kibble is guaranteed to be fresh and packed with nutrition. Pet Wants Houston Inner Loop offers fresh pet nutrition by the pound with free, personal delivery to the Houston Inner Loop, including Heights, River Oaks, West University/Rice Village, Galleria, Garden Oaks, Oak Forest, Downtown, Mid-town, Museum District, Montrose, Memorial, Energy Cooridor, Bellaire, Upper Kirby/Greenway, EaDo and Medical Center.
"I always knew, if I opened a business, it had to be doing something I believed in. When I learned about Pet Wants – and then switched my dog to the food – I knew I'd found the right opportunity. Now that she's eating Pet Wants, her lethargy is gone, her coat is gorgeous and we haven't been to the vet for tummy aches or colon issues. It's a beautiful thing to see your fur-baby smile and your pocket book grow because of fewer vet visits," Graham said. "I opened Pet Wants Houston Inner Loop because I wanted to offer pet parents the opportunity to see their fur-babies enjoy life as much as mine has since switching to Pet Wants."
In addition to being made fresh monthly, Pet Wants only sources the best salmon, chicken, lamb, brown rice and other ingredients available. There's no gluten, no added sugar, no fillers and no animal by-products and Pet Wants never uses corn, wheat, soy or dyes, which means the food is great for animals with allergies. Graham also offers homemade beef jerky, balms and salves for pets.
Graham lives in Houston with her baby girl – a 6-year-old white Siberian Husky named Skyla, who she rescued from Husky Haven in the Houston area. Her significant other, Bill Ingram, has two 3-year-old Shih Tzu littermates named Olivia and Gibbs.
"Pets bring such joy to our lives and research has proven that they not only improve our quality of life, but can even help us live longer. I want to educate pet families in my community about the importance of quality nutrition and raise awareness about the importance of reading the labels on the pet food they buy. Whether they choose to make the switch to Pet Wants or not, giving them the opportunity to extend the life and improve the health and happiness of their pets is what me opening Pet Wants is all about," Graham said.
Pet Wants originally launched in Cincinnati in 2010. Owned by Michele Hobbs, the business was built to provide proprietary crafted, fresh, slow-cooked, all-natural pet food delivered to customers through a retail store and a convenient home-delivery service. Hobbs, now the company founder, turned the business into a franchise in 2015 with the help of Franchise Funding Group, an investment and franchise-development company designed to help entrepreneurs scale their companies nationally as franchise systems.
To order Pet Wants food for your favorite companion or to learn about the company, call (281)753-6654, email JGraham(at)PetWants(dot)com or visit http://www.petwantshoustoninnerloop.com/.
About Pet Wants: Pet Wants was started by Michele Hobbs out of love for her pets and frustration. Veterinarians were unable to help relieve her dog's painful skin allergies. After doing much research, Michele discovered the national dog food brand she trusted was not fresh, not all natural, and lacked sufficient nutrition...and when pet food sits in warehouses and store shelves for months and months… it loses even more nutritional value. She was committed to developing a better solution for all dogs and cats. Their food is exclusively crafted… fresh, healthy, slow-cooked and all natural with no sugar added, no fillers and no animal by-products. They source only the best salmon, chicken, lamb, brown rice, and other ingredients. Fresh ingredients make for better food… and better health for pets. And since they never use corn, wheat, soy or dyes, the common pet health problems associated with these ingredients are no longer worries. Their fresh food is conveniently delivered to the customer within weeks of production, not months. Roughly half of Pet Wants products are sold through their store and half through their convenient, home-delivery program. You can learn more at http://www.PetWants.com.