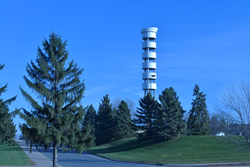 We are honored and thankful to have been serving our customers for the past 25 years and we look forward to doing so for the next 25 years. —STEALTH's CEO, Sean McLernon
Charleston, SC (PRWEB) February 17, 2017
Founded in Ohio in 1992, STEALTH is the pioneer of the wireless concealment industry. To prevent jeopardizing the appearances of existing structures when adding antennas to those structures, STEALTH created the first ever RF-transparent concealment system. It came in the form of a BP gas station sign to camouflage the antennas that were visible from a major interstate. When we say we're the first in concealment, we mean it.
There are two components that go into every great concealment, radiofrequency (RF) performance and invisibility in their environment. RF materials are fabricated to match any existing structure including stone, brick, slate, smooth surfaces and more. It is crucial for a concealment to blend with the atmosphere that it will be placed in. Now armed with numerous camouflage options, STEALTH covers the entire wireless industry with rooftop, tower, pole, DAS, small cell and many custom concealment structures proven to be solid, sound and attractive.
Beauty, without brains only goes so far however. Every concealment is engineered using the highest-grade RF transparent materials on the market. STEALTH tirelessly tests and develops proprietary resources such as StealthSkin™ panels that continue to outperform any other.
Twenty-five years ago, the world was a different place – cell phones were larger than life, smart phones were non-existent and society was not connected by technology 24 hours a day, seven days a week. The industry has grown immensely with the advancement of new equipment and increased demand from cell carrier customers and therefore, the need for more wireless sites. STEALTH has grown alongside the industry, leading the way with new product technology to support the growing needs around the globe.
Many of STEALTH's team members have been with the company since the beginning. Our executive team including Sean McLernon (Chief Executive Officer), Shelly Eicher (Chief Financial Officer), Mike Reineck (VP of Field Operations & Installations) and Trey Nemeth (VP of Engineering & Fabrication) have a combined 73 years of experience in leading our team to success. Today, STEALTH has over 60 employees and resides in a 60,000+ square foot facility in North Charleston, South Carolina.
"We are honored and thankful to have been serving our customers for the past 25 years and we look forward to doing so for the next 25 years," states STEALTH's CEO, Sean McLernon.
See how we differ from the rest.