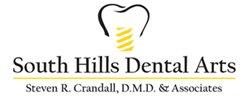 Upper St. Clair, PA (PRWEB) February 16, 2017
In recognition of Gum Disease Awareness Month, Dr. Steven Crandall and his team at South Hills Dental Arts are spreading awareness of how important it is to maintain proper oral and gum health. South Hills Dental Arts now welcomes new patients with gum disease in Upper St. Clair, PA, for treatment, with or without a referral. Dr. Crandall is a respected dentist who utilizes laser gum disease therapy as well as scaling and root planning, osseous surgery and periodontal maintenance to improve the oral health of his patients.
There are many adults who have gum disease in Upper St. Clair, PA, but some of them do not seek treatment. While some may be unaware that they have the disease, others may underestimate the consequences of allowing gum disease to go untreated. Early signs of gum disease may present as minor discomfort or swelling. Common symptoms of advanced periodontal disease include notable gum recession, painful gum tissue and loss of teeth. There are also studies that show a link between periodontal disease and diseases like diabetes and heart disease. Dr. Crandall, a compassionate dentist, encourages patients with gum disease symptoms to seek immediate treatment.
In addition to swollen and receded gum tissue, other common symptoms of gum disease include bad breath, sensitive teeth and gums that bleed easily. Some periodontal disease patients also notice a change in how their teeth fit together when biting, which is commonly due to tooth movement enabled by loose and inflamed gum tissue. Dr. Crandall uses gentle but effective laser gum disease therapy to carefully treat inflamed gum tissue in a minimally-invasive manner. He also offers sedation dentistry to help nervous patients feel more relaxed and at ease while receiving a variety of periodontal treatments.
Patients who believe they are experiencing symptoms of gum disease in Upper St. Clair, PA, are invited to visit Dr. Crandall and his associates for skilled laser gum therapy. To arrange an appointment, patients can call 412-833-6166.
About the Doctor
Dr. Steven Crandall is a dentist offering individualized dental care to patients in the Upper St. Clair, PA and Pittsburgh, PA areas. Dr. Crandall graduated from the University of Pittsburgh School of Dental Medicine and offers experienced dental implant, TMJ, and Invisalign® treatments along with a wide variety of other services at his two office locations. Dr. Crandall and the entire team at South Hills Dental Arts, understand the importance of learning the most cutting-edge treatment techniques to ensure each patient receives effective and comfortable treatment. To learn more about Dr. Crandall and the services he offers, please visit his website at http://www.southhillsdentalarts.com. To schedule an appointment at his Upper St. Clair office call (412) 833-6166 or (412) 922-9292 for his Ingram Crafton office location in Pittsburgh, PA.