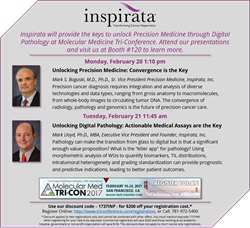 Inspirata's solution helps to bridge the gap between anatomic and molecular pathology. This confluence enables any pathologist to inform personalized treatment options that can improve patient care.
Tampa, FL (PRWEB) February 17, 2017
Cancer diagnostics workflow solution provider Inspirata, Inc., is a premier sponsor and exhibitor at Molecular Medicine Tri-Conference February 20 – 22 in San Francisco. As part of the Tri-Conference expo, which is open Monday through Wednesday, Inspirata will showcase its anatomic and molecular pathology workflow solution, as well as its new precision medicine platform, "Crosswalk Insight: Oncology™."
Inspirata also is headlining part of the Tri-Conference Diagnostics Channel agenda with presentations in the Digital Pathology and Precision Medicine tracks. Within the Precision Medicine track, Inspirata Senior Vice President of Precision Medicine, Mark Boguski, MD, PhD will present "Unlocking Precision Medicine: Convergence is the Key." This luncheon session will be delivered on Monday, February 20 at 1:10 pm. Then on Tuesday February 21 at 11:45 am, Inspirata Executive Vice President and Co-founder Mark Lloyd, PhD, MBA will present a session within the Digital Pathology track titled "Unlocking Digital Pathology: Actionable Medical Assays are the Key."
"Pathology plays a pivotal role in precision medicine because without a precise diagnosis it's impossible for the patient to receive targeted therapies and optimized care," says Inspirata CEO Satish Sanan. "This is why Inspirata is so focused on developing and deploying transformative tools and technologies at cancer centers. Our comprehensive solution uses digital pathology to streamline the pathology workflow, bridging the gap between anatomic and molecular pathology. This confluence enables any pathologist to inform personalized treatment options that ultimately will improve patient outcomes."
Inspirata's solution automates anatomic and molecular pathology workflows, providing whole slide imaging, image viewing and management; computational image analysis; consultation and tumor board modules; and a cancer information data repository.
About Molecular Medicine Tri-Conference
Attracting over 3,500 drug discovery and development professionals from over 40 countries in 2016, the Tri-Conference has grown into a diverse event, focusing on Molecular Medicine, specifically on Discovery, Genomics, Diagnostics and Information Technology. This year marks the 24th International Molecular Medicine Tri-Conference. The event is put on by Cambridge Healthtech Institute (CHI), a division of Cambridge Innovation Institute, which is the preeminent life science network for leading researchers and business experts from top pharmaceutical, biotech, CROs, academia, and niche service providers. CHI is renowned for its vast conference portfolio held worldwide.
About Inspirata, Inc.
Inspirata®, Inc. offers the most comprehensive cancer diagnostics workflow solution available for precision diagnosis today. The solution, which employs a unique "solution-as-a-service" business and delivery model, accelerates anatomic and molecular pathology workflows and facilitates whole slide imaging and image analytics, prognostic and predictive assays, remote consultations and tumor boards. This comprehensive solution includes an Enterprise Service Bus (ESB) to help to solve interoperability issues and a Natural Language Processing Engine (NLP) for structuring data. Inspirata amalgamates this structured data into a central multi-institutional and multi-modal big data cancer repository for clinical, research and educational purposes. Its use will extend to physicians, patients, researchers and pharma among others. This comprehensive solution facilitates a modern precision diagnosis to build a strong foundation for precision medicine. For more information, please visit http://www.inspirata.com or contact info(at)inspirata(dot)com.