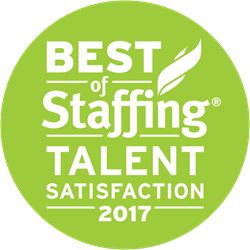 Atlanta, GA (PRWEB) February 16, 2017
Thompson Technologies, Inc., a leading Staffing and Recruiting firm for IT professionals announced today they have won Inavero's Best of Staffing® Talent Award for providing superior service to job seekers. Presented in partnership with CareerBuilder, Inavero's Best of Staffing Talent winners have proven to be industry leaders in service quality based completely on the ratings given to them by the permanent and temporary employees they've helped find jobs. On average, talent of winning agencies are 3.6 times more likely to be completely satisfied with the service provided compared to those placed by non-winning agencies. Award winners make up less than 2% of all staffing agencies in the U.S. and Canada who earned the Best of Staffing Award for service excellence.
Focused on helping to connect people with the right jobs to further their career, Thompson received satisfaction scores of 9 or 10 out of 10 from 83.3% of their placed job candidates, significantly higher than the industry's average of 47%.
"Thompson is intensely focused in ensuring we provide exceptional service. We are extremely proud and honored to receive this recognition of those efforts," CEO, David Thompson said.
"Staffing firms are giving top companies a competitive advantage as they search for talent in North America," said Inavero's CEO Eric Gregg. "The 2017 Best of Staffing winners have achieved exceptionally high levels of satisfaction and I'm proud to feature them on BestofStaffing.com."
About Thompson Technologies
Soon to celebrate its 22nd anniversary, Thompson Technologies is a precision IT staffing firm that provides high-quality services with a reputation for value and unwavering integrity. Thompson provides exceptional IT talent to clients across varying industries on a contract, contract-to-hire and direct hire basis. The company excels at filling challenging positions and identifying qualified candidates for its clients' diverse environments.
About Inavero
Inavero administers more staffing agency client and talent satisfaction surveys than any other firm in the world. Inavero's team reports on over 1.2 million satisfaction surveys from staffing agency clients and talent each year, and the company serves as the American Staffing Association's exclusive service quality partner.
About Inavero's Best of Staffing
Inavero's Best of Staffing® Award is the only award in the U.S. and Canada that recognizes staffing agencies that have proven superior service quality based completely on the ratings given to them by their clients and job candidates. Award winners are showcased by city and area of expertise on BestofStaffing.com – an online resource for hiring professionals and job seekers to find the best staffing agencies to call when they are in need.
To learn more about Thompson Technologies, please visit http://www.thompsontechnologies.com.
Contact
Candace Underwood
P: (770) 794-8380
F: (770) 794-8381
cunderwood(at)thompsontechnologies(dot)com