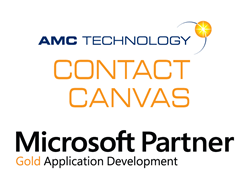 "Contact Canvas with Omni-Channel capabilities provides the most advanced solution in the industry" -Anthony Uliano, Founder/ CTO
Richmond, VA (PRWEB) February 21, 2017
AMC Technology (http://www.amctechnology.com) has announced general availability of Omni-Channel for Microsoft Dynamics CRM, an addition to its Contact Canvas™ (http://www.contactcanvas.com) platform. AMC's Omni-Channel supports routing of standard, custom, and even third party entities to agents based on work item priority and agent availability. For Microsoft CRM and Unified Service Desk (USD), Omni-Channel offers "in-application" integration of Cisco, Avaya and Aspect telephony platforms and Skype® for Business.
With tight integration with AMC's Contact Canvas Agent, an HTML5-based toolbar, AMC is able to offer true blending of telephony and non-telephony work items and provide a seamless user experience. By using one toolbar within CRM or USD, agents are more efficient, agent activities and customer records are more complete, and the customer experience is better and more personal. Because Contact Canvas is able to leverage existing infrastructure and tools that are already used within the workplace, agent training is easier and less time-consuming.
AMC's Omni-Channel API allows 3rd parties to easily queue external requests, such as SMS and Skype for Business chats, extending Omni-Channel capabilities to the Microsoft Dynamics partner community to leverage and integrate their communication channels. Omni-Channel for Dynamics CRM Reporting across agents and queues gives customers robust metrics and tracking of work across the entire enterprise.
With out-of-the-box integration of Skype for Business, agents have access to not only phone and chat capabilities but video conference, audio and collaboration making Contact Canvas a powerful addition to the Microsoft toolset. "Contact Canvas with Omni-Channel capabilities provides the most advanced solution in the industry with both inbound, outbound telephony support for Avaya, Cisco and Aspect, Skype for Business and non-telephony work items all tightly integrated and offered within Dynamics CRM," said Anthony X. Uliano, Founder and CTO of AMC Technology. "AMC's Contact Canvas Platform continues to go beyond the point to point solutions offered by other companies and our new Omni-Channel product showcases the depth of our platform approach."
Contact Canvas is a powerful, communication-enabling platform that maximizes business assets such as CRM and communication infrastructure through seamless integration that yields efficiency and increases customer satisfaction. Omni-Channel demonstrates the full capabilities of AMC's Contact Canvas platform by illustrating the flexibility and power of its components. Through Contact Canvas, AMC is able to integrate the dynamic, heterogeneous enterprise with one product that can be customized and extended.
About AMC Technology
AMC Technology, LLC, has been a global industry leader in contact center and CRM integration since 1995. AMC powers contact centers and customer interactions for companies around the globe through certified products and unparalleled expertise. AMC's Contact Canvas™ product suite allows customers to integrate CRM and communication platforms, including CTI, across the enterprise, for call center agents, knowledge workers, and mobile staff. Our products are certified by our partners and allow businesses to more effectively manage all types of customer relations while delivering superior levels of customer service and improving productivity.