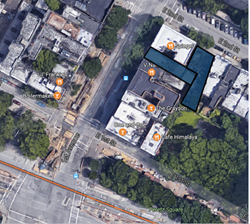 Provided the underlying fundamentals in the region, and the ongoing reallocation of value in the area; I firmly believe the acquirer of the properties will deem the acquisition as one which is highly accretive.
New York, NY (PRWEB) February 17, 2017
The adjoining, L-Shaped properties enjoy combined frontage of 60' spread across East 2nd Street & 1st Avenue; buildings are comprised of roughly a 14,000 SF structure and boast around 12,000 SF of unused air rights; located in a versatilely zoned area. The properties can be acquired for $26 Million.
Both buildings are also available for Net Lease.
24 1st Avenue & 99-101 East 2nd Street are strategically located along the vibrant 1st Avenue corridor in the East Village. The properties are located within four blocks from Peter Brant's illustrious exhibition space at the celebrated artist - Walter De Maria's historic home; which has nurtured and pioneered a new era of artistic progress within the region. The Notable Art Collector & Industrialist recently purchased the legendary property for $27 Million.
A flurry of progressive & chic development projects have transformed the nature of the immediate area, further characterizing the region as New York City's most desirable destination to live, shop, and play. The New Museum and world-renowned eateries like Katz's Deli, Daniel Boulud's DBGB, Russ and Daughters; the emergence of several prominent art galleries; have all fostered the majestic aroma of the neighborhood. Broader market fundamentals, along with the development of the rapidly growing TAMI sector in NYC, have created a great demand for new residential units in the region. These factors, coupled with the pre-existing dynamism of the investment & residential sales markets, have paved the way for unwavering cultural and economic growth in the East Village and Lower East Side. All the while, neighboring development projects such as 215 Chrystie Street by Ian Schrager have registered sales at unprecedented condominium prices, thus cementing the region's aesthetic appeal and establishing the East Village & Lower East Side as amongst the world's most magnetizing neighborhoods.
The properties are ripe for a user who is seeking to benefit from the unparalleled retail presence on both 1st Avenue and East 2nd Street. The acquirer will also be able to creatively utilize the curb cut (on 99-101 East 2nd Street) and the vast ceilings, coupled with unique layout; while capitalizing on the underlying development potential of the properties. The acquirer is also certain to benefit from the inevitable reallocation of retail value from the neighboring corridors in SoHo & NoHo.
For further information about this opportunity, please reach out to:
Yagnesh Vangala
XRE | Investment Sales
T. 646.403.4468
135 E 57th St, 7th Floor | New York, NY 10022
http://www.xreny.com