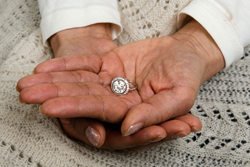 How much should I spend on an engagement ring?
New York City, New York (PRWEB) February 20, 2017
Every guy, at the very beginning of his search for an engagement ring, will always ask the same set of questions. How much am I supposed to spend? How much will she expect the ring to cost? And what is considered a reasonable price for a person at my stage of life?
Buying an engagement ring is a massive decision, and because there are so many conflicting opinions out there, many people get very overwhelmed.
Estate Diamond Jewelry understood this problem and invented an engagement ring calculator that will take the pain out of the budget decision. The user has to merely click a few boxes and the website will calculate a very precise budget with which one can confidently begin their engagement ring hunt.
Instead of merely depending on the outdated 2-month-salary-scheme or 3-month-salary-scheme, this program puts a lot more of a personal focus into the final answer.
The previous payment formats didn't answer questions like:

What if the couple have a little (or a lot of) debt?
What if they are living on a different lifestyle than the salary bracket that they currently find themselves?
What if they want to invest in a high quality ring?
What if she would rather a more modest ring?
What if someone is helping them with the purchase and they have a larger budget?
In order to keep the questions as simple as possible, Estate Diamond Jewelry tapped into their 30+ years in the engagement ring industry and picked the top five questions that they felt would properly solve the above problems.
Each question in the calculator covers a few facets of the overall equation in order to help determine how much a guy in the same financial standing and lifestyle would usually spend on an engagement ring.
About Estate Diamond Jewelry: Located on 5th Ave in New York City since 1980, Estate Diamond Jewelry has been collecting one of the world's rarest collections of vintage engagement rings. Ever since joining the web, their website has been making waves with their innovative and creative ways in which they streamline the engagement ring buying process. The engagement ring calculator is their latest invention.