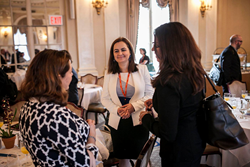 The TV Innovation Summit is an intense, one-day deep dive into the issues that will drive content tactics and strategy into 2017 and beyond.
New York, New York (PRWEB) February 17, 2017
Cablefax's 5th Annual TV Innovation Summit will tackle a changing TV ecosystem on June 8 when leaders from cable, broadband, digital and tech gather at the New York City Athletic Club to share insights on social TV, emerging technology, TV analytics and more.
Cablefax's growing speaker roster will equip attendees with the knowledge to effectively break through the noise and deploy business strategies that supercharge revenue and growth.
"When we launched the TV Innovation Summit five years ago, we knew big disruption was coming," said Cablefax Publisher Michael Grebb. "But no one back then could have predicted how fast it would happen. As the entire TV ecosystem continues to rapidly shift, the stability of traditional media has given way to a prevailing scenario in which content owners and distributors must completely rethink their respective businesses. The TV Innovation Summit is an intense, one-day deep dive into the issues that will drive content tactics and strategy into 2017 and beyond."
Attendees will hear forward-thinking strategies at the following sessions:

Parallel Universes: Measuring Eyeballs across Platforms, Screens and Devices
A New Identity: Navigating TV's Metamorphosis
Experience Explosion: The Future of Fan Engagement
Digital Alchemy: Weaving Screens into Video Gold
Aftermath or After-Party?: A New Era in Washington
The Social Futurist: Let's Talk Emerging Social TV Strategies & Platforms
The Wow Factor: Standing Out from the Crowd
Monetizing VR: Virtual & Augmented Reality Come of Age
Under the Microscope: Drilling Locally for Digital Dollars
Bye, Bye Bundle: Thriving in an OTT World
In addition to the 10 interactive sessions, this premier event will offer multiple opportunities for attendees to connect with like-minded peers through various networking breaks and a celebratory post-summit cocktail reception.
The TV Innovation Summit on June 8 at the New York City Athletic Club in NYC is a thought-leading event designed for teams at companies of all types and sizes. For more detailed information on The Summit, visit: http://www.cfxtvsummit.com.
For registration questions, contact Alex Virden at avirden(at)accessintel(dot)com.
If you would like to sponsor the summit, please contact Rich Hauptner at rhauptner(at)accessintel(dot)com or Olivia Murray at omurray(at)accessintel(dot)com.
About Cablefax: Cablefax is the most trusted brand in the industry, providing executives with the most original, comprehensive and insightful overview of the latest industry news and strategic initiatives. Cablefax offerings include a wide range of resources for cable, broadband and TV professionals, including Cablefax Daily, Cablefax: The Magazine, award programs, webinars, and networking events. For more information, visit http://www.Cablefax.com.